Roberto Orci Continues To Attack Star Trek Fans Online Over His Reboot Choices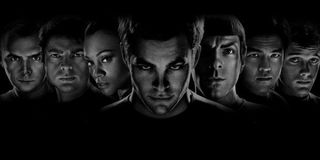 Today's groan-inducing moment: Roberto Orci has been trolling around fansite comments sections again. This time, he was firing back at fans who expressed displeasure with the plot idea to reset the timeline for Captain Kirk and the crew of the Enterprise.
Orci said this deep in the comments section of an article on TrekMovie.com, claiming:
While Orci originally jumped into the no-man's-land of the internet to clear up misconceptions on his role in Star Trek 3 -- there have been rumors swirling that he would be a co-writer for the film, but Orci is only slated to produce the film -- he continued engaging with fans in the comments section, proving that Roberto Orci is a glutton for fan punishment. Fans are quite concerned over the direction of the third installation in the new Star Trek franchise, from Orci's timeline reset idea to the film's new director, Fast and Furious director, Justin Lin. So I have to say, it was a pretty interesting choice on Orci's part to jump into the comments section and essentially tell fans to stop whining.
The release of Star Trek 3 is set to be in conjunction with the franchise's 50th anniversary. With such a big date coming for the Trek universe, it makes sense for fans to express concern when they feel like their beloved franchise is running off the rails. If you're thinking Orci's super mature, incredibly professional parting line of "this is the reason I make movies and you don't" sounds familiar, that would be because this isn't Orci's first time jumping into the comments section to lash out at fans. This also isn't his first example of him virtually sticking his tongue out at fans telling Trekkies he gets to make movies and they don't. In September of 2013, Trek Movie decided to run an article titled "Star Trek Is Broken--Here Are Ideas How To Fix It." Orci read the article and decided to join the discussion in the comments section, lashing out at fans for daring to not love the second Star Trek film, and then tossing his now signature line at them, "There is a reason why I get to write movies, and you don't."
Okay, I get it. You're putting your blood, sweat, and tears into these films. It is annoying to work so hard on something and simply have fans tell you it sucks, the idea is stupid, or the franchise as a whole is broken. It has to be even more frustrating that on top of the Into Darkness criticism, Roberto Orci is already hearing from unhappy fans on a film that hasn't even hit theaters yet. However, there is a problem when a fan-directed Orci temper tantrum becomes such an expected and commonplace occurrence. Fans complain, they point out the problems with their favorite franchises, and they challenge those franchises to do better. While I'm sure that can be a tough thing to constantly deal with, there has to be a better way for Orci to blow off steam than to be a troll in the comments section, right?
Hopefully Roberto Orci will calm down soon. Now that the film has officially selected on a director, the studio has felt comfortable setting a release date for the film. While we still don't have a title apart from Star Trek 3, the film will hit theaters on July 8, 2016.
Your Daily Blend of Entertainment News
Thank you for signing up to CinemaBlend. You will receive a verification email shortly.
There was a problem. Please refresh the page and try again.