Roman Polanski To Direct His Wife In Venus In Fur Adaptation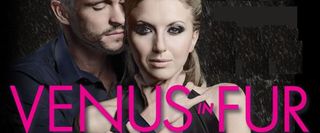 Roman Polanski has kept remarkably busy as a director these last few years, releasing The Ghost Writer in 2010-- his first feature in five years-- only to follow it up a year later with Carnage, an adaptation of the hit play God of Carnage. He's already finished his screenplay for D, about the infamous French scandal the Drefyus Affair, but before he shoots that film he'll move on to a different project-- once again, an adaptation of a popular play.
Polanski announced today that he will direct an adaptation of Venus in Fur, the Tony-nominated play that also won the award for its star Nina Arianda. Described as an "erotic black comedy" in the release, Venus in Fur will star Polanski's wife Emmanuelle Seigner as a captivating actress auditioning for the writer-director of a new play. The cast of the play contains only two people, and while you might assume Polanski will expand it for the screen, his adaptation of Carnage remained in the tightly confined space of a single apartment, so it's entirely possible he'll keep the limited scope this time as well.
Obviously Polanski is taking the opportunity to give his wife a massive star turn (it's worth noting that, at 46, Seigner is nearly 20 years older than Arianda, who originated the role), but his skill in adapting Carnage proves he's pretty good at tackling a contained play and bringing it to the screen. Polanski is essentially using the film to fill the time while he waits for the pieces to come together on the larger-scale D, but with his wife in the lead role, there's no reason for us to assume this will be some tossed-off effort.
Venus in Fur will be shot in French and will co-star Louis Garrel, of The Dreamers and Heartbeats.
Your Daily Blend of Entertainment News
Staff Writer at CinemaBlend