Ron Burgundy Releasing Tell-All Memoir One Month Before Anchorman 2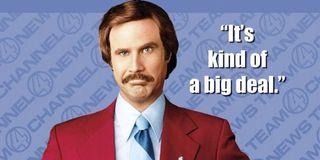 After nearly a decade of being quoted endlessly by fans, Ron Burgundy's many bits of wisdom -- "Milk was a bad choice," "I'm kind of a big deal," etc.-- have become legend. The arrival of Anchorman: The Legend Continues this Christmas promises to give us more where that came from, but Ron Burgundy wouldn't be a classy newsman if he didn't know how to take advantage of an opportunity. So in November, a month before the Anchorman' sequel's debut, we'll see the arrival of Let Me Off at the Top!, a.k.a. Ron Burgundy's memoir.
According to Entertainment Weekly, the book will chronicle the newsman's childhood and rise in the TV business, along with "well-learned lessons on a variety of topics as well as anecdotes from his pursuits of career, friendship, and women." Based on that brief description it's not hard to make a few guesses on what's in store-- a guide on which weapons to bring to an alley brawl with other newsmen, for instance. How to get your apartment to smell of rich mahogany. A stern warning against the use of Sex Panther. A very one-sided account of his romance with Veronica Corningstone, in which she falls for him immediately. An eight-page spread of glossy, full-color photos of Baxter, the little gentleman.
See how easy it is to get in on the Anchorman reference game? Presumably Let Me Off at the Top! will set the stage in some way for Anchorman 2, which arrives on December 20 and follows Ron, Veronica and the entire news team as they make their way into the 80s and the advent of cable news. Though they've been doing an excellent job of rolling out teases for the film, it's been hard to pin down the most quotable lines based on trailers like this one:
Will the book reveal the secrets behind salon-quality hair? Looking manly while wearing a sombrero or a giant fur collar? So many options. Mark your calendars to break out of your glass case of emotion and get a copy of the book on November 19.
Your Daily Blend of Entertainment News
Staff Writer at CinemaBlend