This Rotten Week: Predicting The Longest Ride Reviews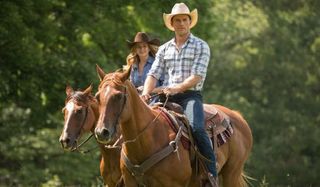 Last time around we had the Furious boys and girls taking another fast ride through their ridiculous world – but this week we get the longest ride, a much different story that doesn't have me nearly as excited.
Just remember, I'm not reviewing these movies, but rather predicting where they'll end up on the Tomatometer. Let's take a look at what This Rotten Week has to offer.
POSTER HERE, LINK IT TO PREVIEW PAGE
PREDICTION RATING HERE, LINK IT TO ROTTEN TOMATOES PAGE
Rotten Watch Prediction
I have a feeling that Nicholas Sparks lies around rolling in his piles of money while thinking about plots for books. And at the core of those plots is basically just coming up with a background for a guy and a background for a girl and how those backgrounds should mean they couldn't be more different. But, alas, they will fall in love with each other just because it seems they shouldn't. There you have it, I just plotted out every Sparks' book.
See what I mean in the trailer for The Longest Ride below:
A quick look at the Nicholas Sparks book-turn-movie resume tells a familiar and, less-than-inspiring tale. The dude's movies finish in a very particular range - and that range ain't good. Just a few sample include:
A Walk to Remember (27%)
Dear John (28%)
The Lucky One (20%)
There are others - some that land higher, some that land lower - but all pretty much average out in this area. Nicholas Sparks writes sappy books with predictable and formulaic plot structures, and those novels become sappy movies with the same qualities. I get it, something works for you and you stick with it. Hell, I couldn't write those books. And I'm sure he's laughing all the way to the bank.
From the trailer it looks like they tried super, super hard to create some drama out of very little storyline here. It's hard to know where any of the conflict comes from. Guy meets girl. They like each other despite (or because of) their differences. Girl meets old man who tells her a story about guy meeting girl, but like in the forties. These two stories run parallel because two people like each other. Movie over? I mean what is even happening here? George Tillman directs after helming flicks like Notorious (51%) and Faster (43%). Neither were terrible, but both are pretty forgettable. I expect this latest will fall right in line. A year from now I very much doubt we remember it was even made. Such is the way of flicks that have faux gravity, fabricated conflict based on star-crossed lovers (who really aren't that star-crossed to begin with). But this is the Sparks' way.

This poll is no longer available.

Furious 7 (Predicted: 85% Actual: 82%) was another massive hit for the franchise, and is definitely crushing at the box office. This isn't a surprise, and unbelievably, neither is the critical love. It finished right in line with my last week prediction and adds another chapter to one of the craziest film franchises ever created. How these movies have come along since the first one is truly remarkable. In his review, Cinema Blend's Gregory Wakeman calls the movie "jaw-dropping" and "glorious". He admits in part that the movies work because of a they-know-that-we-know-that-they-know deal that makes a pact with the viewer. That silent agreement is how critics have come around the Fast and Furious franchise. Like I said last week, very little about the movies have changed except for everyone's expectations. It's really the only way to account for such a dramatic shift in critical scores over the course of the seven movies.
Next time around we meet Child 44, revisit Paul Blart, explore a monkey kingdom and unfriend some folks. It's going to be a Rotten Week!
Your Daily Blend of Entertainment News
Doug began writing for CinemaBlend back when Terminator: The Sarah Connor Chronicles actually existed. Since then he's been writing This Rotten Week, predicting RottenTomatoes scores for movies you don't even remember for the better part of a decade. He can be found re-watching The Office for the infinity time.
Your Daily Blend of Entertainment News
Thank you for signing up to CinemaBlend. You will receive a verification email shortly.
There was a problem. Please refresh the page and try again.