This Rotten Week: Predicting Spectre and The Peanuts Movie Reviews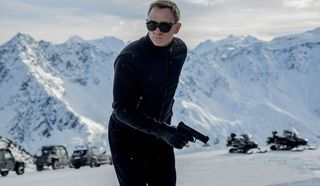 A couple of bigger-name movies hit the screen this week. We've got James Bond and Charlie Brown, two more opposite characters there are not. Get ready for Spectre and The Peanuts Movie.
Just remember, I'm not reviewing these movies, but rather predicting where they'll end up on the Tomatometer. Let's take a look at what This Rotten Week has to offer.
Rotten Watch Prediction
The great thing about one Mr. James Bond, and what makes the cinematic universe around him so great, is he's more like a superhero character than an actual human protagonist. I don't mean he has super powers (though his array of gadgets is very Batman-like) but instead because the franchise has been perpetually rebooted, he just never ages. We just keep rolling it back with new dudes. It's refreshing, in a way. We will never be without Bond, just like we'll never be without the characters from the Marvel and DC Universe.
Take a look at Daniel Craig still Bond-ing it in the trailer for Spectre
Craig's run as Bond, James Bond, has been a runaway success with the movies as hits in both the critical eye and at the box office. His three flicks...
Casino Royale (95%)
Quantum of Solace (65%)
Skyfall (93%)
... have totaled somewhere in the range of $2.2 billion at the box office. That's billion with a "B." That number is just about insane. While Bond as a franchise is healthy, wealthy and wisely dashing, there may be a few chinks in the armor on Spectre. Early reviews, while generally positive (sitting at 77% through about 40), do have an overarching sense of "good not great." Many critics are almost begrudgingly (or apologetically) accepting it as a good flick, though do so in a way that suggests it's just a little too over the top and "bloated." While James Bond films will always resemble this type of cinematic gun-toting panache, there could be a time at which we reach some diminishing returns. Not to say Spectre is the tipping point. But one gets the sense from reading through the reviews that the 77% just doesn't match up with the general consensus.
In this newest film, Bond is off to find a secret and insidious organization (Spectre) in what sounds much like the plotline for every single other Bond movie. That part is fine. It's what we've come to expect from the franchise and, in general, we aren't tuning in for the finer subtleties of plotting. But critics seem to think it just runs overlong and overboard.
Sam Mendes is back after directing Skyfall and has a nice run of critically acclaimed movies including Away We Go (67%) and back in the day American Beauty (88%) to name just a couple. Spectre will for sure stay in the positive range with this kind of head start. But based on some of the reviews, I can see it dropping as the week goes on.
Rotten Watch Prediction
These are interesting times we live in with things coming out of Hollywood. Considering that Jem and the Holograms came out recently, there is literally nothing off the table when it comes to taking old ideas and adapting them into present-day movies. And while I don't think that The Peanuts falls into the same category as that piece of crap, it does seem to be one of those, "Let's take something from the past and see if it sticks with a new generation" kind of things.
See Charlie, Linus, Lucy and the rest of the gang in the trailer for The Peanuts Movie
The Peanuts have a cultural-relevancy advantage over some other vestiges of the past because their holiday specials still come around a couple of times a year. They aren't good, per se (a comment that will strike some the wrong way for sure), but I suppose they are cute enough. The problem with the Peanuts as a whole is they aren't a particularly engaging group, a concept that worked years ago when there was little competition in the cartoon department. The trials and tribulations in Charlie Brown's good grief philosophy was somewhat dark and Snoopy's imagination worked here and there. The characters had their relationships, but in general it's a pretty slow burn. This new movie touts itself as bringing the classic characters back in 3D, but beyond that, I'm not holding out any great hope the movie is engaging or entertaining, even for a younger crowd.
It sounds like I'm dumping on Charles Schultz here. I'm not. Again, there was a time when the Peanuts worked. I think those times have passed. This new movie, revolving around Charlie Brown's never ending struggle to not f#$% things up all the time, looks like someone sat in a room, brainstormed every possible Peanuts angle and character and threw it all up on the screen. Mission accomplished. I can't imagine critics reacting kindly.

This poll is no longer available.

One of my strongest weeks ever last time around. Two near misses and the third just a hair out of the ten percent range.
Our Brand is Crisis (Predicted: 33% Actual: 32%) was right on the mark up until about 12 hours ago when one more negative review came through the door. Being both politically and culturally tone deaf seems to be the major issues with the movie. A good cast couldn't prop it up critically, as most reviews agreed the film fell flat in a number of different areas. I said in my write up that this film would be quickly forgotten, and that looks like it'll be the case. I can't imagine anyone else circling back around to care about it.
Burnt (Predicted: 30% Actual: 29%) was the other close call. What a bummer. I suppose it's great to get this close on two flicks, but man it tastes so sweet (food pun) to get there as an exact bullseye. Bradley Cooper's ode to the kitchen seemed to miss across the board with no real story and a bunch of different scenes meant to just remind you he's a screwed up guy looking for redemption in the kitchen. I love Cooper as an actor, but this one won't highlight his resume.
And finally, Scout's Guide to the Zombie Apocalypse (Predicted: 22% Actual: 33%) was actually a little better than expected. Not good mind you, but I thought if anything my score was going to be too high. It just looked so freaking bad. Few critics even bothered to see it, though the positive reviews seem to be from folks who went in with the lowest of expectations and came out not completely hating it.
Next time time around, we've just got another big one with The 33, Love the Coopers and My All American. It's gonna be a Rotten Week!
Doug began writing for CinemaBlend back when Terminator: The Sarah Connor Chronicles actually existed. Since then he's been writing This Rotten Week, predicting RottenTomatoes scores for movies you don't even remember for the better part of a decade. He can be found re-watching The Office for the infinity time.
Your Daily Blend of Entertainment News
Thank you for signing up to CinemaBlend. You will receive a verification email shortly.
There was a problem. Please refresh the page and try again.