Rufus Sewell Will Be The Lead Bad Guy In Abraham Lincoln: Vampire Hunter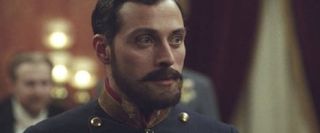 In the actual story of Abraham Lincoln's life, the villain is John Wilkes Booth, or maybe President of the Confederacy Jefferson Davis. In the version told in Abraham Lincoln: Vampire Hunter, though, ol' Abe was fighting against a vampire named Adam, who Variety now reports will be played by Rufus Sewell.
Sewell is British, which already makes him a villain of all things freedom-loving and American (hear that, colonialists?!?!) , but it's unclear if he was cast for his British accent or a face that screams "I am not afraid of you and could easily kill you with my bare hands." The Timur Bekmambetov-directed 3D project starts shooting in March, with Benjamin Walker starring as Lincoln and Mary Elizabeth Winstead, Dominic Cooper, Anthony Mackie, Alan Tudyk and Robin McLeavy rounding out the cast. Above is a picture of Sewell done up in Civil War-era garb for The Illusionist, to give us some idea of what to expect-- hopefully the excellent facial hair will also be back.
Your Daily Blend of Entertainment News
Staff Writer at CinemaBlend