Rush Hour 3 Minus Muscles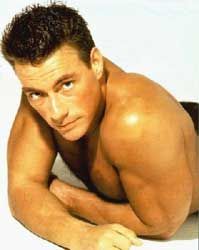 Four months ago we reported on a "sister's cousin's uncle" type rumor about Jean-Claude Van Damme joining the cast of Rush Hour 3 as the villain. Today's Empire online reports that the rumor not only isn't true, but was made up by Van Damme himself. The former action hero told the press, "it was just a comment, a joke, that I made during an interview. I said, 'We've got Jackie, we've got Chris Tucker — what about me, making it a trio?'"
The Muscles from Brussles goes on to tell Empire that if he was to do a buddy cop comedy he'd rather do something more like Lethal Weapon or Midnight Run, not a Rush Hour film. Funny, I always thought Rush Hour was kind of a send up of movies like Lethal Weapon. I guess to Van Damme there's an important distinction between the two, despite the fact that his career is lacking any sort of success since, oh, the '90s.
It's amazing how quickly some rumors get debunked or confirmed and how long it takes for others. In this case, I'm guessing it's taken so long for this rumor to be denied because someone actually had to go to great lengths to find Jean-Claude Van Damme from the oceans of obscurity. If he keeps making up rumors like this one, it'll probably be a while before he's offered any actual work, especially since the press now knows to be wary about any news in the future that includes Van Damme's name.
Rush Hour 3 is slated for a summer 2007 release, despite this casting news not being true.
Your Daily Blend of Entertainment News
Thank you for signing up to CinemaBlend. You will receive a verification email shortly.
There was a problem. Please refresh the page and try again.