Russell Crowe's Nice Guys Has A Secret L.A. Confidential Reunion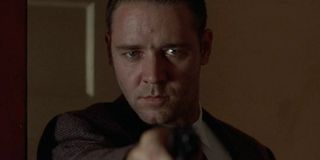 It's been 18 years since Russell Crowe bulldozed his way into the Hollywood consciousness with his portrayal of Bud White in L.A. Confidential. For many, this was their first look at the intense, brooding, but undeniably charismatic Australian, and since then his stock has only risen. And in The Nice Guys, Crowe's 2016 mystery thriller, there will be an L.A. Confidential reunion, and it's something that we should all be really excited about.
Now this is actually a secret. So those of you who don't want to know which actor from L.A Confidential will be re-teaming with Russell Crowe in The Nice Guys probably shouldn't read ahead. Well, you can, but there are potential SPOILERS ahead. In the meantime, you can check out arguably the worst ever trailer for a sensational film below.
Are they gone? Good. So, Russell Crowe will once again share the screen with Kim Basinger in The Nice Guys. Basinger made the admission while she was talking to the Daily Beast, and she explained that her appearance in the Shane Black-directed noir tale comes as a bit of a surprise. After being asked about her portrayal, Basinger declared:
Aside from Basinger's revelation that Ryan Gosling is a "doll" (something that we all knew already) the confirmation that she will be in the same film as Russell Crowe again is yet another reason to get excited about The Nice Guys. And there were several pretty gigantic reasons to be excited about the film already.
Directed by Shane Black (Iron Man 3, Kiss Kiss Bang Bang) and co-written by Anthony Bagarozzi and Black (who also had a hand in Lethal Weapon, The Long Kiss Goodnight, Last Action Hero, The Last Boy Scout), the 1970s set mystery thriller teams up a Los Angeles private detective with a rookie police officer as they look into the apparent suicide of a fading porn star. Now just the idea of Ryan Gosling and Russell Crowe leading a film together is enough to salivate and drip sweat over, but the fact that they'll be emanating lines that have been devised by Shane Black is enough to fall into a full-on coma.
Plus, Black and his producer Joel Silver have acquired a rather exemplrary supporting cast too, which, as well as Basinger, includes Matt Bomer (Magic Mike, Winter's Tale), Jack Kilmer (son of Val, and star of Palo Alto), Ty Simpkins (Iron Man 3), and the always majestic Keith David (Requiem For A Dream). Hopefully it will live up to its potential, and we'll see if that's the case when The Nice Guys is released on May 20, 2016. It's already a must-see.
Your Daily Blend of Entertainment News