Spider-Man's Venom Spin-Off Movie Might Be In Huge Trouble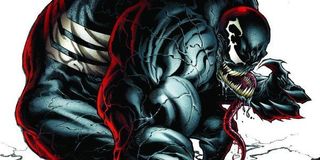 Although the Amazing Spider-Man movies may be earning the big bucks, the series has been struggling creatively. The Amazing Spider-Man 2 earned mixed-to-negative reviews back in May, and Sony has since shifted their plans for the Wall-Crawler's cinematic universe. The Amazing Spider-Man 3 has been delayed until 2018, and Spidey's rogues gallery will band together sooner than anticipated when Sinister Six is released in 2016. Although Sony also has a solo female spinoff planned, it's clear they're having trouble figuring out future steps and are struggling to reformat their future plans, which may mean drastic changes - possibly involving the announced Venom movie.
A new article from Badass Digest says that Sony may have some dramatic plans in the works, revealing inside information that the Venom spinoff, set to be directed by Alex Kurtzman, is "functionally dead again." Venom is one of the few villains in the Spider-Man family that can function on his own, primarily because he's more of an antihero (or if you've read him in the past couple years, an actual superhero). Despite his close relationship to Spider-Man, Venom is a character that could go off and have his own Spider-free adventures - so to hear that the spinoff may be kaput is troublesome.
This wouldn't be the first time have a Venom spinoff has bit the dust. In 2008, producer Avi Arad said that a Venom movie was in the works featuring Eddie Brock, which is strange considering that Brock bit the dust in Spider-Man 3 The film was in production for years until the reboot series killed it. Of all the Amazing Spider-Man spinoffs announced, Venom sounded the most promising, so if it is dead, that just proves how bad things are at Sony. And perhaps the worst part is that we'll still have Topher Grace's interpretation as the sole live-action Venom, and that's a shame in itself.
Sony has been planning this project for a while and there was a even brief reference to Venom on OsCorps's computers in The Amazing Spider-Man 2, so it's clear that the studio wants the film to happen. It just seems to be having a lot of trouble moving forward. One of the primary problems with a Venom spinoff is choosing who should be the symbiote's host. Many have worn that pesky alien slime creature over the years, but the its primary wearers have been Eddie Brock and Flash Thompson. While Eddie Brock makes an interesting antihero, because of his hatred of Peter Parker and Spider-Man, it would be difficult to create a spinoff without at least establishing that animosity in a film beforehand - and there have been no announcements of Venom being part of the Sinister Six.
Flash Thompson, on the other hand, has already been introduced in The Amazing Spider-Man, and if done well, there may be no need to have Spidey involved with his origin. Like in the comics, Flash is a huge Spider-Man fan, so it would be interesting to see Flash fight the dark urges the symbiote feeds him and try to become a hero in his own right.
Of course, all of this only matters if the Venom movie actually happens. We'll just have to wait and see how this rumor pans out.
Your Daily Blend of Entertainment News
Connoisseur of Marvel, DC, Star Wars, John Wick, MonsterVerse and Doctor Who lore. He's aware he looks like Harry Potter and Clark Kent.
Your Daily Blend of Entertainment News
Thank you for signing up to CinemaBlend. You will receive a verification email shortly.
There was a problem. Please refresh the page and try again.