Spider-Man Eyeing A Female Superhero Spinoff Film For 2017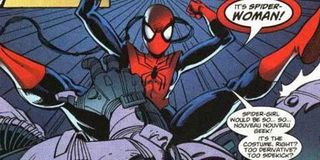 The balls on Sony... here they go, changing the blockbuster paradigm once again. During the weekend, it was rumored they were pursuing an all-female Ghostbusters. And now, it looks like they're giving Spider-Man a rest for the time being, with 2016's The Sinister Six helping to fill that void on the villains' side. But on the hero side? Spidey's going to give way to a lady.
Deadline reports that 2017 is being eyed for the date in which Sony will unveil a female-centric superhero within the Spider-Man universe. Who this hero is, they won't say. But New York City will need new defenders with the Sinister Six running around, and with Spider-Man apparently on ice for the time being, a female presence will rise up. Currently, Lisa Joy Nolan (HBO's upcoming Westworld) is the writer in charge of this project. The producers are the usual web-heads, Avi Arad and Matt Tolmach, which is another implication that this will take advantage of the already-established Spider-Man universe.
The thrill of an extended Spider-Man family sort of comes from the villains, so it's curious to see Sony push forward with non-Spidey heroes. The equivalent to this would be if the WB put Batman on ice and made Nightwing, Batgirl and The Red Hood movies – which, truly, is not a crazy idea. Of course, those characters went on to establish their own universes independent of Batman, so it's not a direct comparison. Spider-Man's allies tend to be other fully-developed characters like Daredevil or the Fantastic Four, characters owned by other studios. And many of these characters that do exist within the Spider-Man universe heavily depend on Spider-Man's help: is this movie going to have access to the webhead? If he's playing a minor role, couldn't Andrew Garfield just show up and do a voiceover for a stunt double in a mask? Would that be an insulting proposition to Andrew Garfield? Would that hurt the "brand"? Would anyone be wondering where he was if Spider-Man didn't show up?
Marvel's bench of female characters is strong, but the ones that Sony owns are not exactly plentiful. It would be very cool if Sony could make this work, however: Spider-Man was viewed by Sony as a billion dollar character, but the numbers have been waning for years now. Could Spidey be replaced by a female presence? Would they exist as equals? And how much would Sony spend on a female-centric superhero film? The fans, man and woman, will know if Sony's making a cheaper, lower-budgeted Marvel film. The Amazing Spider-Man 2 reportedly cost in the neighborhood of $250 million, but how much will be enough to do the whole thing again with a female hero? Which female hero could it be? Who do YOU want to see?
Your Daily Blend of Entertainment News