Sandra Bullock And Meryl Streep To Play Mother And Daughter?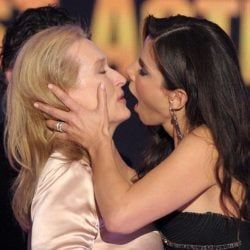 You haven't been hearing anything about Sandra Bullock's marriage issues on this site, because that's just not our thing. But for once the tabloids have come up with something interesting about a celebrity that actually involves their career and not their personal life. In a piece that's mostly about how Sandra has "sought refuge" out of LA, X17's sources claim that Bullock and Meryl Streep have discussed teaming up for a film in which they would play mother and daughter.
Streep and Bullock were competitors for this year's Best Actress statue, of course, and the two publicly teased and flirted with one another right up to the moment that Bullock took the stage to accept the prize, veering over to Streep before pretending to ignore her. I'd personally rather see the two as a kind of Thelma and Louise duo of hellraisers, especially since the mother-daughter age gap doesn't really make sense-- Streep would have had to have given birth to Bullock at age 15. But if a new movie role is what it takes to get Bullock out of the tabloids and back, I'm all for it.
Also remember the general rule of tabloid reports-- it's considered very, very sketchy rumor until proven otherwise. Given all the attention Bullock and Streep got for palling around during Oscar season, this may be more wishful thinking than anything else.
Staff Writer at CinemaBlend
Your Daily Blend of Entertainment News
Thank you for signing up to CinemaBlend. You will receive a verification email shortly.
There was a problem. Please refresh the page and try again.