Is Sarah Gadon The Amazing Spider-Man's New Mary Jane Watson?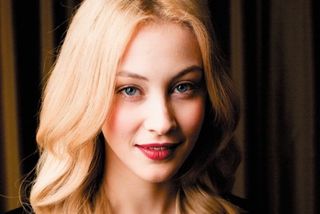 Meet the new Mary Jane Watson … Canadian actress Sarah Gadon! Maybe...
The casting carousel for The Amazing Spider-Man 2 has been spinning out of control lately, and ET Canada now confirms via Twitter that Gadon "is joining The Amazing Spider-Man franchise" in a role that they do not specify. Connect the dots, though, and it appears that Gadon will be the new Mary Jane.
How did we get here? Rumors have been flying around for the past 48 hours that Sony Pictures planned to recast the role of M.J. in Marc Webb's The Amazing Spider-Man 2 after news broke that Shailene Woodley no longer would be in the upcoming Spidey sequel. At the time, speculation suggested that the Spectacular Now starlet would simply see the footage she'd already shot for Webb pushed back to The Amazing Spider-Man 3, which recently was plugged in to a June 10, 2016 release date.
Then the news pattern shifted. It was suggested – for reasons that have not been confirmed – that Woodley's footage would be scrapped (she'd only spent a few days on the Amazing Spider-Man 2 set, filming what we hear is two or three small scenes), and the role would be recast for Spider-Man parts three and four. The prevalent notion was that Woodley was committed to the multi-part Divergent film adaptation, and her schedule would conflict with what was now a sprawling Spider-Man franchise.
Enter Gadon.
What do we know about the actress? Her credits include two David Cronenberg movies, A Dangerous Method and the recent Cosmopolis. Keeping it in the family, she also starred in Brandon Cronenberg's disturbing thriller Antiviral. And her biggest roles, at least in her native Canada, were on the television programs The Border, Being Erica and Happy Town. None of those are quite as big, though, as playing Spider-Man's love interest in a major superhero franchise.
Where does this leave Mary Jane, as a character? We thought she might surface in the background of The Amazing Spider-Man 2, but now that sounds like the immediate sequel will be devoted to the Peter-Gwen storyline – a classic that deserves all the time it needs to develop.
The news that Sony is greenlighting three Spidey sequels, though, suggests that the studio is backing the development of a Sinister Six story … and M.J. could be a huge part.
The Mary Jane Saga has been taking several turns recently. ET Canada says Gadon's involvement is confirmed. We're hoping Webb or Sony weighs in, and soon, but for now, it sounds like we might have found Woodley's Spider-replacement.
Movie junkie. Infatuated with comic-book films. ReelBlend cohost. Resident dad. Extroverted introvert. Wants to see the Snyder Cut. Managing Director at CinemaBlend.