Save The Psycho House! Sign This Petition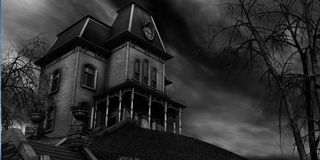 There are movie sets so key to an iconic film that they loom large in our collective memory. Undoubtedly the tall and eerie house from Alfred Hitchcock's Psycho is one of them. I'd wager most of you could draw a recognizable sketch of it from memory.
Well, the Psycho House--as its known--is entering its 55th year, but it's not holding up so well. So, a petition composed by one of its avid appreciators has been posted on Change.org, entreating Universal Pictures to restore the home of Norman and Norma Bates to its former glory.
Rather than some creepy location, The Psycho House was constructed in 1959 especially for Hitchcock's chilling adaptation of the Robert Bloch novel of the same name. It began as a two-sided façade, but over the years Universal built out a third, then fourth wall, and even added an actual roof so that the set could be used in a variety of productions--like the "Halloween Knight" episode of Knight Rider. In 1964, it was added to the Universal Studios Hollywood theme park tour, where it was a major draw and continues to be. That's little surprise as Psycho continues to have relevance with the help of the success of the prequel series Bates Motel.
Yet no apparent maintenance has occurred in the past decade, according to this petition's starter, who explains:
So, the plea of Save The Psycho House is simply that. Its organizer(s) call on Universal Studios to restore the set and tourist attraction to its former California Gothic glory. At present, they already have over 4,000 supporters, who've signed their names to the following request:
Sign yourself if your so inclined at Change.org
Staff writer at CinemaBlend.
Your Daily Blend of Entertainment News
Thank you for signing up to CinemaBlend. You will receive a verification email shortly.
There was a problem. Please refresh the page and try again.