Scarlett Says Only 3 Characters Will Return For G.I. Joe 2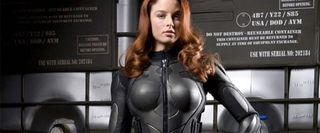 Now that the sequel has a director G.I. Joe 2 is moving forward, but it'll be moving forward without most of the previous movie's cast. At least that's the latest word from Rachel Nichols, who played Scarlett in the first movie Rise of Cobra.
Last night Nichols took to Twitter to tell everyone, "GI JOE 2 News Flash: The only characters to return in the JON CHU directed sequel will be SNAKE EYES, STORM SHADOW, and DUKE..." Duke was played in the first film by Channing Tatum, Storm Shadow by Byung-hun Lee, and even though you never saw his face, Snake Eyes by Ray Park.
That also means Nichols herself won't be in the film, since she doesn't mention Scarlett. This could just be bitterness on the part of an actress who won't get another paycheck, but that doesn't mean she isn't right. It's hard to imagine a G.I. Joe movie without Cobra Commander though. More on this as soon as there's an official word, but it sounds like you can definitely count out Rachel Nichols from G.I. Joe 2, at the least.
Your Daily Blend of Entertainment News