Scott Glenn Reprising His Role For The Bourne Legacy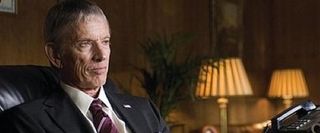 Scott Glenn, the consummate "that guy" character last seen as the enigmatic wise man in Sucker Punch-- a movie that could have used a lot more wisdom-- has booked two roles in upcoming movies you'll be seeing very soon. According to Variety he's headed first to Lee Daniels's Precious follow-up The Paperboy, a crime mystery starring Matthew McConaughey and John Cusack. Glenn will play the editor of the local paper in the Florida town where the action goes down. From there he'll move on to a movie you're definitely not going to be able to avoid-- The Bourne Legacy.
That Universal project is toplined by Jeremy Renner, who won't be replacing Matt Damon as Jason Bourne but playing a new character apparently cut from the same cloth. To keep up continuity within the franchise, though, they're bringing back a lot of familiar faces, including Joan Allen as Pamela Landy and Albert Finney as Abert Hirsch. Glenn will be reprising his role as Ezra Kramer, the CIA director who also oversaw Treadstone, the secret unit that created Jason Bourne and presumably will tinker in the life of Renner's character as well. It's good to see the collection of heavies returning for this latest installment, further evidence that director Tony Gilroy-- who wrote the first three films-- really is trying to keep the spirit of the franchise alive. It's still unclear why we need another Bourne movie beyond the fact that Universal wants to make a dollar, but things are looking promising so far, so why not have faith for now?
Your Daily Blend of Entertainment News
Staff Writer at CinemaBlend