See The Secret Star Wars Easter Egg From Into Star Trek Into Darkness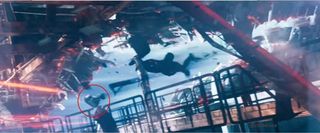 See that hunk of metal in the circle there? Don't you dare call it a hunk of metal, or a stupid little short-circuit or any other kind of C-3PO insults. That's R2-D2, being sucked out of the U.S.S. Enterprise and into space in the middle of the Vengeance's attack in Star Trek Into Darkness (as spotted by ion). Yes, R2-D2 in Star Trek. It's a crazy world we live in.
Before you start shaking your fists and shouting at J.J. Abrams for jumping the gun on his Star Wars involvement, you might remember that Abrams snuck an R2-D2 into 2009's Star Trek as well-- many years before he possibly could have known that he'd one day be making films in a galaxy far, far away. Abrams has said over and over again that he's always been more of a Star Wars fan than a Trek fan, and in 2009's Star Trek the R2 cameo was a cute little nod to that.
But now that Abrams seems possibly ready to abandon the Enterprise to focus on the upcoming Star Wars: Episode VII, is the reference quite as cute? Sure, it's R2-D2 being pulled out into space here, not captaining the Enterprise, but it's not hard to picture grabbing on and flying away with him. See ya, Jim Kirk! Good luck with that resurrected iconic villain I've saddled you with! I wanna go play with George Lucas's toys now!
Star Trek Into Darkness, as you might have noticed from a billion ads playing during college football over the weekend, comes out on Blu-ray this week. In the meantime you can check out the film's brutal "Honest Trailer." Let me know if you spot RD-D2's cameo in there too.
Your Daily Blend of Entertainment News
Staff Writer at CinemaBlend