See True Grit's Hailee Steinfeld Promote Blingatude For K-Mart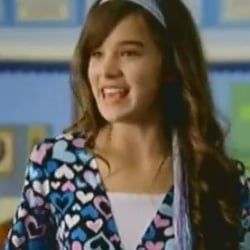 Sure, virtually no one had heard of Hailee Steinfeld when the Coen Brothers cast her as the lead of their now-hit movie True Grit, but she wasn't exactly an inexperienced actress. Steinfeld had credits on TV shows Back to You and Sons of Tucson as well as movies called She's A Fox and Grand Cru, but she had also done work in commercials like many other aspiring actors. And as much as Hailee might have thought her work for K-Mart wouldn't come back to haunt her as she's on the verge of what might be an Oscar nomination, well, YouTube strikes again.
Check out the short video below, in which Steinfeld rocks a pair of bedazzled jeans and explains to the clueless kid sitting in front of her the definition of "blingatude." As embarrassing as the whole thing is, she's actually the star of the commercial, and manages to say a line like "Blingatude is a girl's BFF, A-E-A-E" as if it makes any sense whatsoever. I can't say I would have seen this commercial and known she'd make it big someday, but, well, there are worst things to have out there. I'd still recommend catching another viewing of True Grit after this, just as a palate cleanser.
Your Daily Blend of Entertainment News
Staff Writer at CinemaBlend