See The X-Men Let Their Hair Down At Taylor Swift Concert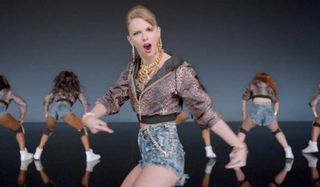 Finally, the truth is out: the X-Men are major Taylor Swift fans. The cast of X-Men: Apocalypse is busy filming in Montreal, Canada, but amidst facing off against one of the team's most powerful villains, some of the actors decided to take a break to "Shake It Off." And by shake it off, we mean shake off James McAvoy's hair. Take a look at a photo of the newly shaven Professor X, Sophie Turner, and writer-producer Simon Kinberg hanging out with T-Swift backstage.
The singer performed a concert in Ottawa on Monday night, belting out the likes of "I Wish You Would," the rock version of "Never Ever Ever Getting Back Together," and, of course, her infectious "Shake It Off," in front of a sold-out crowd. But when she headed over to Montreal, she received some X-ellent new fans. We've already seen a first look image of McAvoy shaving off his locks to portray Professor Charles Xavier, but there's so much more to love from this latest look — mainly McAvoy's now glistening dome and that Swift was the one to release this pic to the public on her Instagram account. We're also assuming that Nicholas Hoult is the one snapping this photo from behind the camera, since she mentions his name but he's nowhere to be found.
We've seen a bunch of teases and photo updates from the set of Apocalypse, thanks to Bryan Singer's active social media accounts. There have been glimpses of Caliban's hideaway, a look at Lana Condor as the totally '80s Jubilee and Turner as the mom jeans-wearing Jean Grey, but this is one of our favorites for all the above reasons. MvAvoy returns alongside other X-Men mainstays like Michael Fassbender (Magneto), Jennifer Lawrence (Mystique), and Hoult (Beast), along with a number of newcomers. Ty Sheridan (Cyclops), Kodi Smit-McPhee (Nightcrawler), Alexandra Shipp (Storm), Ben Hardy (Angel/Archangel), Tomas Lemarquis (Caliban), and Olivia Munn (Psylocke) join the superhero disaster movie, and Oscar Isaac plays the infamous Apocalypse. By the looks of the new photo, the newbies are getting along famously with the veterans.
Not much is known about the plot of the film, though we do know that it will feature more of the budding relationship between Beast and Mystique, and Singer described it as a disaster movie of sorts. The filmmaker also pointed out that this battle between the mutants and Apocalypse will be the event that forces them to form the X-Men team. With the post-credits scene to Days of Future Past and official concept art from Apocalypse, fans have also learned that the big bad will also bring in his Four Horsemen, and Hardy's Archangel will be one of them.
But, most importantly, this is the film that finally makes McAvoy lose his hair!
X-Men: Apocalypse hits theaters on May 27, 2016.
Your Daily Blend of Entertainment News