Seth McFarlane's Ted Lawsuit Dismissed, Get The Details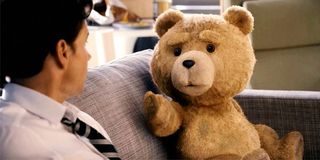 It appears that Seth McFarlane has been vindicated in the eyes of a court after the dismissal of a lawsuit against him alleging that his 2012 comedic vulgar taking teddy bear film, Ted was too similar to a series of video sketches focusing on a character called "Charlie The Abusive Teddy Bear." A Los Angeles federal judge was satisfied with proof that the film's titular teddy bear was inspired through a creative process independent of the "Charlie" videos. It's certainly a huge relief for McFarlane as Ted 2 readies an imminent summer release.
News of the lawsuit dismissal is being widely reported, but as a report from The Wrap points out from court papers filed in a California U.S. District Court,
While the legal specifics of exactly what "satisfied" both plaintiff Bengal Mountain Productions and the Court was not revealed, it is clear that proof of the non-infringing nature of the Ted character had to be clear and definitive. In fact, a statement released by McFarlane's co-defendants in Media Rights Captal praises McFarlane's "genius" while dealing the parting shot saying that the lawsuit was "without merit and has been dismissed."
Undoubtedly, it serves as the most satisfying outcome for Seth McFarlane, whose notable work on animated hit shows like Family Guy and American Dad have long been subject to accusations ranging from being too derivative to straight up plagiarism. Yet, with Ted, we had a film that grossed an impressive $549 million worldwide, centering on an intriguing, but not entirely out from left-field concept of an anthropomorphic teddy bear who says and does hilariously offensive things. (And coincidentally, sounds a lot like MacFarlane's Family Guy character, Peter Griffin.) It's not surprising that there was something already out there that shared enough attributes to attract claims of being copycatted.
The lawsuit, originally filed last July, would seek an undisclosed amount of damages, alleging that the concept behind Ted was essentially a clone of Bengal Mountain's "Charlie The Abusive Teddy Bear" videos. The general complaint of the lawsuit fixates on the point that Charlie would arrive first with the idea of a teddy bear with "a penchant for drinking, smoking, prostitutes, and is a generally vulgar yet humorous character." However, one look at the Charlie videos reveals that while Bengal Mountain may have come to the table earlier with the CONCEPT of a vulgar talking teddy bear, they didn't exactly do much to move past the most superficial elements of the basic premise. Unlike what we saw with Ted, there's no depth or true character to those Charlie videos, which tend to carry themselves like a Saturday Night Live sketch from an extremely bad season. (Let's go with 1980-81.)
So, while we may not have all the dry legal details of the decision, it seems pretty clear from the outset that the lawsuit wouldn't stick. At the very least, this bit of free publicity will do nicely to help usher in Ted 2, which, to the chagrin of "Charlie," is set to hit theaters on June 26.
Your Daily Blend of Entertainment News
Thank you for signing up to CinemaBlend. You will receive a verification email shortly.
There was a problem. Please refresh the page and try again.