Goofy Ted 2 Super Bowl Trailer Gives The World Tom Brady And His Glowing Penis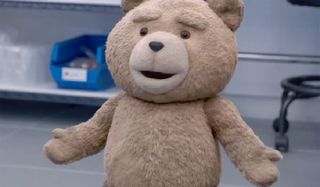 It was pretty easy to predict that Seth MacFarlane's Ted 2 would wind up having one of the raunchiest trailers to debut during the Super Bowl, and it definitely didn't disappoint. Now it has arrived online, and you can watch it again and again below.
A sequel to the insanely-successful first movie from 2012, Ted 2 picks up with the titular anamorphic teddy bear (voiced by Seth MacFarlane) making some big steps in his life – but also hitting some incredible obstacles. After getting married to Tami-Lynn (Jessica Barth) he decides that he wants to have a child of his own – but winds up running into issues with both nature and the state along the way. Not only is Ted not anatomically correct, leaving him forced to look for sperm donors, but he also must actually prove that he is a person in the eyes of the law capable of raising a child. Mark Wahlberg and Amanda Seyfried co-star in the film, and it's been rumored that we can expect a bevy of celebrity cameos as well. As promised, we got a peek at Tom Brady's cameo during the big game and it definitely included a peek at something else.
The previously top secret spot for Ted 2 ties directly into the film's baby making plot line, as Ted and John sneak into Tom Brady's bedroom to "steal a little love," as the aptly selected Sinatra tune implied. The guys lift up Brady's sheets, ready to collect the sample they need, and a golden aura shines out at them. A light so distracting, they wind up waking Tom Brady and goad him into throwing a perfect spiral... using Ted as the ball. Now this commercial was hysterical in the original airing on TV, but if you listen closely, there's something a little extra in the online release. Go back and watch the trailer again, then come back for the answer.
If you tune the Ted 2 trailer to 0:17 in, you'll hear Ted say, "Now let's give him a hand job into this cup." Of course, this line wouldn't pass muster with standards and practices at NBC, even if it's one of their own being advertised. Still, this is the internet, and pretty much anything goes with the right warning. Seeing Ted talk about hand jobs is really a given, considering this is a Seth MacFarlane movie, and this is par for the course. Here's hoping that Ted 2 manages to thrill audiences where A Million Ways To Die In The West didn't. Yes, we're still talking about that, because as anyone in Hollywood will tell you, you're only as good as your last picture.
Look for Ted 2 in theaters on June 26th.
CinemaBlend's James Bond (expert). Also versed in Large Scale Aggressors, time travel, and Guillermo del Toro. He fights for The User.
Your Daily Blend of Entertainment News
Thank you for signing up to CinemaBlend. You will receive a verification email shortly.
There was a problem. Please refresh the page and try again.