Ted 2 Trailer Is Ridiculous And Inappropriate, Watch It Now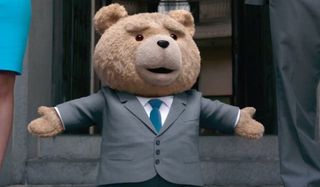 The Ted 2 trailer is finally here, and just like you'd expect: it's pretty raunchy. Though, not as raunchy as we know Seth MacFarlane can be. We thought Universal was gonna make a grand to-do and debut the first footage of the sequel during Super Bowl Sunday, but they dropped it a bit early. So, how's about we actually learn what the hell is going on in Ted 2, yes?
The Star Wars: Episode 7 trailer may have had Andy Serkis as a narrator, but the Ted 2 trailer has Sir Patrick Stewart, who's been a longtime collaborator with MacFarlane. (He voices Stan's boss Captain Bullock in American Dad.) So it already has at least one thing going for it. Prior to this footage, we knew that Amanda Seyfried was in the sequel and that Mila Kunis was expected to make at least a small appearance. While the Jupiter Ascending star isn't featured here at all, we now know a whole lot more about the plot.
Remember that photo Mark Wahlberg posted on the steps of a church? Well, perhaps his character will be getting married at some point in the film, but Ted 2 kicks off with the wedding of Ted (voiced by MacFarlane) and Tammy Lynn. The problem is, they want to start a family but the U.S. government doesn't yet recognize the foulmouthed teddy bear as a human being, thereby preventing him from raising a child. That's where Seyfried comes into the picture. Ted and John hire a lawyer named Samantha Jackson (Seyfried) to help them out — but perhaps her most important quality to the duo is that her full name is essentially Sam L. Jackson. Based on John's appearance in the trailer, it looks like he and Lori (Kunis) are caput, which is why Ms. Jackson is said to be a new love interest.
Ted was hysterical because it featured MacFarlane at his most inappropriate, but based off the Ted 2 trailer, we're a bit underwhelmed by the sequel. The footage features a lot of the same gags and situational humor we've seen from MacFarlane in the past. Even that moment in the sperm bank was totally repurposed from Family Guy. In the season 5 episode "Sibling Rivalry" where Stewie fights his half-brother Bertram, there's a similar scene where Peter goes into a sperm bank and topples over a stand full of donations. Is MacFarlane running out of material or something?
To make matters even more unbearable, there's this whole underlying theme of "what it means to be human," which is forced in our faces by Morgan Freeman's character. Stop trying to be existential, Ted. We just want to see more of Wahlberg throwing food down peoples' butt cracks.
Your Daily Blend of Entertainment News