Seth Rogen Channels Walt Disney For The Strangest, Funniest Sausage Party Promo Yet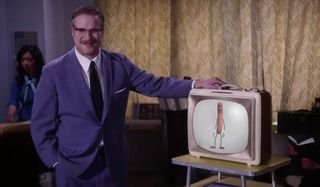 Sausage Party may look fun and wholesome on the surface, but if you've watched any of its previews, you know that the movie is anything but kid friendly. The R-rated CGI animated romp may not feature any actual gore, but for the food we eat every day, it's filled with all kinds of horrors. To further show how twisted this movie will be, a new promo has been released featuring star Seth Rogen channeling Walt Disney…well, a dark version of him, anyway.
Dressed and speaking like Walt Disney, Seth Rogen begins the latest Sausage Party promo walking among his employees in the Animation Imaginatorium, a room filled with fashion and decor reminiscent of the recorded pieces Walt Disney used to make in the '40s and '50s. However, once Rogen fires someone an artist without batting an eye, it's clear that Rogen's chipper, suited self is nothing like Walt. He then walks over to an old-fashioned TV containing Sausage Party's main character, Frank the sausage patty, who is also voiced by Rogen. Rogen is proud of what Frank is able to do, like dancing and curtsying, but then he breaks the news that the sausage and all his friends will soon be dead.
From there, we see some of the kitchen scenes shown in previous Sausage Party trailers, namely the tomato being chopped in half, the bacon being cooked and the baby carrots being chomped. There's no profanity like in the red-band previews, but it's still shocking to watch. Frank is understandably freaked out, but Rogen's Walt Disney persona brushes off his concerns, saying that this is a comedy. That's easy for you to see when you're not the one being eaten to entertain the masses. It may have a catchy name, but clearly the Animation Imaginatorium is a perilous place for food, both real and animated.
While Walt Disney may have had a great relationship with Mickey Mouse and his other creations last century, it's clear that the Rogen in this promo only breathed life into Frank and the others so they could be mercilessly killed for profit. Of course, given that Sausage Party is obviously spoofing the Disney and Pixar movies, it's fitting that Rogen's Walt Disney imitation is more sinister than the original man.
Along with Rogen, Sausage Party also features the voices of Kristen Wiig, Jonah Hill, Bill Hader, Michael Cera and more. We'd ask Rogen's Walt Disney character if he has Sausage Party 2 in the works, but considering the footage we've seen so far, it's doubtful most, if not all, of the foodstuffs will survive to be included in a sequel.
Sausage Party arrives in theaters on August 12.
Connoisseur of Marvel, DC, Star Wars, John Wick, MonsterVerse and Doctor Who lore. He's aware he looks like Harry Potter and Clark Kent.
Your Daily Blend of Entertainment News
Thank you for signing up to CinemaBlend. You will receive a verification email shortly.
There was a problem. Please refresh the page and try again.