Seven Samurai Remake Gets A Director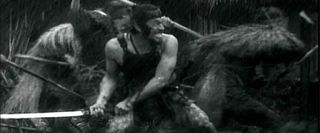 The Weinstein Company is remaking the classic Akira Kurosawa movie Seven Samurai and they've hired a director. His name is Scott Mann, and he's best known for, well, nothing. But he did once direct a movie called The Tournament, which starred underrated Stargate: Universe actor Robert Carlyle in the story of 30 deadly assassins descending on an unsuspecting town for a last man standing competition. That sounds sort of like a Seven Samurai style movie. Good enough to get the job?
Purists are, predictably, up in arms over the notion that someone would dare to remake Kurosawa. I'd be upset too, Seven Samurai is a great film, if it hadn't already been remade before, to wildly successful results. The 1960 western The Magnificent Seven is a Seven Samurai remake and it's a pretty great film in its own right. And that was made only four years after Kurosawa finished his movie. Nearly 50 years later, it seems completely valid to do it again, even if they're putting it in the hands of someone like Mann, who hasn't really done enough to earn anything, let alone the work of Kurosawa.
At least they aren't doing it on the cheap. Variety says Weinstein is giving Mann a $60 million production budget to work with, a nice sum for The Weinstein Company and enough to come up with a gritty, battle in a small town movie which is exactly what this should be. They're going to contemporize the story for this reinterpretation, which should help make that $60 million go even further.
Your Daily Blend of Entertainment News
Thank you for signing up to CinemaBlend. You will receive a verification email shortly.
There was a problem. Please refresh the page and try again.