Sherman's March Gets Unnecessary Remake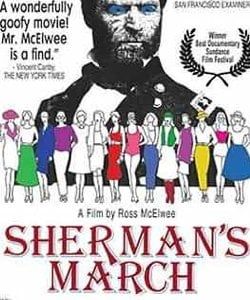 OK, there are remakes, there are unnecessary remakes, and there are remakes so unnecessary you wonder who in God's name would front the money for such a thing. That's pretty much all I can think about the planned feature remake of Sherman's March, Ross McElwee's 1986 documentary that was one of the earliest hits produced by the Sundance Film Festival.
The Hollywood Reporter says that Steve Carr, the director of movies like Daddy Day Care and Next Friday, has acquired the rights to McElwee's film, which was supposed to be a documentary about Civil War General Sherman but became the story of his own exes. It was an indie hit before indie hits even existed, and now Carr wants to turn it into a "smaller, quirky comedy, keeping the original's tone but producing something that will feel akin to Sideways or Little Miss Sunshine."
An actual documentary about a guy failing to do his assignment is clever, especially in 1986, when these kinds of meta-narratives were unique. But post-Charlie Kaufman, and post-every indie that Carr seems to want to emulate, it just feels old. Aren't there some stories that can withstand not being retold?
Staff Writer at CinemaBlend
Your Daily Blend of Entertainment News
Thank you for signing up to CinemaBlend. You will receive a verification email shortly.
There was a problem. Please refresh the page and try again.