Shirley MacLaine May Play Mother Goose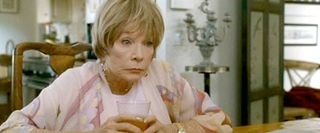 Amid the most recent movie trends has been a rushed return to fairy tales, mining these old fables for the kind of financial fruits that the blockbuster Alice in Wonderland yielded worldwide. So far, we've seen some better (Mirror Mirror), some worse (Red Riding Hood), but with the imminent release of Snow White and the Huntsman and the eventual debuts of Jack the Giant Killer and Hansel and Gretel: Witch Hunters, there's still a ways to go before this trend taps out. Still, it may get the boost of some old-school sass should Shirley MacLaine sign on to play the titular icon in the soon-to-shoot Mother Goose.
Deadline reports the brassy star who rose to fame in Hollywood's Golden Age has entered into negotiations to headline the adventure which is prepping to film in Poland, Arkansas and Los Angeles. Penned by Michael Snyder, the family-friendly feature sounds like a re-imagination of The Wizard of Oz peopled by nursery rhyme figures. Mother Goose centers on two siblings named Jack and Jill—who presumably have some troubles climbing hills without incident. Lost in Mother Goose's magical domain, they must make their way through the fantastic kingdom while puzzling out three riddles that will give them access to her royal Gooseness (maybe MacLaine), who possesses the key to their passage home.
While it sounds like a potentially enchanting adventure, it's unlikely Mother Goose will to be a major theatrical player, as its announced distributor, Hannover House, deals heavily in DVD releases. Nonetheless, the production would be lucky to get MacLaine, as her smug, self-assured smile has been winning over audiences for more than fifty years.
Your Daily Blend of Entertainment News
Staff writer at CinemaBlend.