Sleeping With Other People Trailer Features Jason Sudeikis And Alison Brie Playing Sex Addicts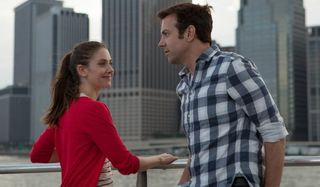 Sleeping With Other People, starring SNL vet Jason Sudeikis and Community's Alison Brie, debuted at Sundance earlier this year before making its way through the film festival circuit. Now the first trailer has debuted so the public can get a taste of this quirky rom-com (if you could even call it that) about two sex addicts who form a non-sexual but intimate attraction for each other. Watch it below.
Sudeikis plays Jake, a notorious womanizer who just can't seem to keep it in his pants. Brie plays Lainey, a similarly inclined woman who can't help but cheat on her boyfriends. As it turns out, the two have history; Lainey lost her virginity to Jake. The two reunite at a support meeting for sex addicts and attempt to help each other out in this regard.
Since sex seems to screw up every relationship they've ever attempted to have, the duo settle on being friends. What they didn't expect was the mutual love they develop towards each other. Sleeping With Other People also features Natasha Lyonne of Orange Is the New Black, Adam Scott, Amanda Peet, Daniella Pineda of The CW's The Originals, Jason Mantzoukas of The League and Marc Blucas, known for his stint on Buffy the Vampire Slayer. This is the second feature film from director-writer Leslye Headland, who previously helmed the indie Bachelorette with Rebel Wilson, Kirsten Dunst, Isla Fisher and Lizzy Caplan. (Fun fact: Dunst was originally supposed to play Lainey, but she dropped out due to a scheduling conflict.)
Sleeping With Other People marks a new role for both Sudeikis and Brie. Though the former headlined comedies like We're the Millers and Horrible Bosses, neither have really led more personal stories like in this film. Our own Gregory Wakeman caught this film at this year's Tribeca Film Festival and said Sudeikis is the real star of the film. In his review, he writes the funny man is "at his smooth, vulnerable and painfully funny best," while his chemistry with Brie is infectious.
In interviews, Brie has referred to Sleeping With Other People as a more realistic rom-com that speaks to modern relationships and situations. She told Vanity Fair that this is the first film in which she's really filmed sex scenes, and to have a female filmmaker on board made this feel like a safe space in which to test these uncharted waters. Plus, she remarked how simply putting something sexual in the title will automatically draw people into the theaters.
Sleeping With Other People will hit theaters in a limited release on August 21.
Your Daily Blend of Entertainment News