Snowpiercer Is The First Oscars Screener Sent To Academy Members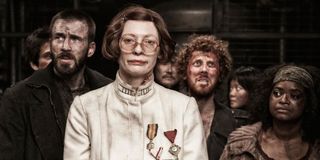 Boasting a 95% Fresh rating on Rotten Tomatoes, Bong Joon-ho's Snowpiercer has become one of the most critically heralded films of the year. And now it's the first to be sent to the Academy of Arts and Sciences for consideration for awards season.
Deadline dropped the news that a DVD of Snowpiercer has been sent out to Academy members, who could receive the sci-fi drama as early as today. It's a bold move by RADiUS, a distribution division of The Weinstein Company that's been shaking up the standard release model, and is now kicking off the push for Oscar season.
Starring an international cast that includes Chris Evans, Song Kang-ho, Ed Harris, John Hurt, Tilda Swinton, Jamie Bell, Octavia Spencer, Ewen Bremmer, and Ko Ah-Sung, Snowpiercer found inspiration in the French graphic novel Le Transperceneige. Its story centers on a titular train that houses the last dregs of humanity following a new ice age that has caked the globe in killer cold. But class warfare brews between the have-nots at the back of the train and the posh haves at its front.
Along with the DVD, RADiUS has sent a simple case that suggests a wide variety of categories to which Snowpiercer might be applicable. Deadline included this picture of the case, but made it too small to make out the full details:
However, the site did share that RADiUS is pitching Bong Joon-ho for Best Director, Joon-ho and Kelly Masterson for Best Adapted Screenplay, and Tilda Swinton for Best Supporting actress. Aside from these big contests, we can safely assume the distributor is promoting Snowpiercer for a slew of design awards as well as technical Oscars considering its lush production value and compelling effects. As big fans of this film ourselves, we at Cinema Blend are positively pumped to see RADiUS believes in this film--which thrived in limited release and VOD--as much as we do.
The Weinstein Company has traditionally been a force to be reckoned with come Oscar time, with Harvey Weinstein spending big and playing hardball to push his pics. Last year, their contenders for the Oscar race included Philomena, Fruitvale Station and Twenty Feet From Stardom. But Fruitvale Station was shut out, Philomena scored no wins, and only Twenty Feet From Stardom scored, taking home Best Documentary. TWC's slate of 2014 has been studded with disappointments like Sin City: A Dame To Kill For and The Giver. But TWC apparently has hopes for its romantic dramedy Begin Again, offering a re-release in hopes of garnering Academy attention.
But the RADiUS branch has proved far more compelling between Snowpiercer, The One I Love, and the upcoming Horns. Notably, Twenty Feet From Stardom was a RADiUS release, and now Snowpiercer may be TWC's best bet at Oscar acclaim in 2015.
Your Daily Blend of Entertainment News
Staff writer at CinemaBlend.