Spectre Video: What We Know About The Latest Bond Girls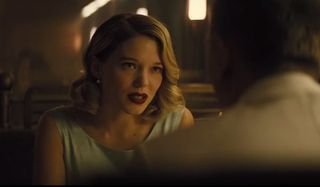 The history of the "Bond Girl" is as diverse as it is long. However, with Spectre on its way and the world being much different than it was when the term was coined, it is perhaps time to retire that terminology. With that, please enjoy the latest featurette from the Spectre team, which introduces the first two "Bond Women."
Thanks are in order, as 007.com released this new video this morning, giving us a better look into the characters of both Lea Seydoux's Madeline Swann and Monica Bellucci's Lucia Sciarra. While there are some details that we already knew about both women, there are some new clues as to where the 24th James Bond film will be taking them in terms of plot. The most revealing piece of information came from Bellucci, as she described her character's motivation in Spectre, as seen below:
So now we know that Lucia Sciarra is the widow of a mob associate, or even possibly a mob boss. Given that Spectre is a wide-reaching criminal organization, it wouldn't be a surprise to learn that Ms. Sciarra's husband was somehow involved in the workings of the massive criminal empire that seeks to destabilize the world to its advantage. Also, we do know that we get to see her husband's demise in the Mexico City pre-credits sequence, leading to the funeral where Bond starts to receive deeper hints at just how far the organization reaches. So Bellucci's Lucia isn't merely window dressing, she's a core piece to the puzzle that is Spectre.
As for Lea Seydoux's Madeline Swann, she's a rather interesting piece to the over all mystery, as well, especially considering that the most important piece of her character's identity is hiding in plain sight and hardly ever talked about. Dr. Swann is not only a psychiatrist who teams up with Bond to help him navigate the treacherous water's he's facing in order to defeat his enemies, she's also the daughter of Mr. White himself – explaining just how she knows what Spectre is, and why she's qualified to help Bond face them. Much like Lucia, Madeline has a personal tie to an organization of some really bad people, and a life event – or perhaps some of that gruff Daniel Craig charm – has motivated her to assist in that organization's demise.
With Lucia and Madeline helping him out, Bond has a good shot to make, at the very least, a serious dent in Spectre's organization. While Moneypenny is strangely omitted from this discussion of Bond Women assisting 007 on his latest mission, it is refreshing that they are being labeled as women, instead of the traditional "girl." Casting Lea Seydoux and Monica Bellucci is a clear sign that Sam Mendes and his team are going for actresses who are absolutely stunning, while at the same time able to hold their own in a complex plot that will require them to do more than kiss the hero or die in his arms. In fact, Mendes sums up this sentiment rather nicely below:
With only a couple of months left before Spectre reveals its secrets to us, we've got a strange feeling that there's a lot more than meets the eye when it comes to both of these beautiful, resilient women. Whatever the truth is, it's good to know that the James Bond franchise is aiming away from the stereotypes and tropes it has created in more than five decades of operation, giving us a more mature and developed product that even Ian Fleming himself would be proud of. And we'll see what the full story is when Spectre is released in theaters on November 6th.
CinemaBlend's James Bond (expert). Also versed in Large Scale Aggressors, time travel, and Guillermo del Toro. He fights for The User.
Your Daily Blend of Entertainment News
Thank you for signing up to CinemaBlend. You will receive a verification email shortly.
There was a problem. Please refresh the page and try again.