Check Out How Athletic One Of The Spider-Man Finalists Is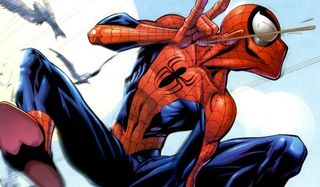 Marvel Studios and Sony Pictures still haven't chosen who will play Spider-Man in the MCU. Each reportedly has its own preferred candidate, and it's like the Hollywood executive version of Civil War. With Ender's Game star Asa Butterfield now out of the mix, the new shortlist of actors is said to include Tom Holland, Charlie Plummer, Matthew Lintz, and Charlie Row. But Holland is already showcasing his Spidey skills to the public through some impressive videos. Check 'em out.
Holland recently posted some footage of himself to Instagram. The videos reveal the actor, most known for his role in the Oscar-nominated disaster film The Impossible, going all parkour in his backyard. This sort of thing can happen when 19-year-olds are bored, have a lot of time on their hands, and easy access to a smartphone.
Each of his flips get increasingly more eye-popping. Holland starts with a front flip off his porch and moves ahead into a side flip and brings it all together with backflip for the finale.
It's safe to say that, should Holland end up inducted into the MCU, he'll likely perform at least some of his own stunts.
Tobey Maguire and Andrew Garfield portrayed the web-slinging Peter Parker in Sony's live-action films, but this new Spider-Man will be more faithful to the comic books and feature a significantly younger actor in the role. Assuming Marvel and Sony can ever come to a decision, Spidey will first appear in the currently slated Marvel movie, Captain America: Civil War, before spinning off into his own solo film, which is scheduled for July 28, 2017. Civil War, already features just about everyone in the MCU, and adding Spidey makes the roster even more impressive.
According to reports, Marvel wants Charlie Plummer of Boardwalk Empire for Peter Parker, while Sony is backing Holland, and the studios are having a good old-fashioned standoff. They're going to have to make a decision soon, as Joe and Anthony Russo need to tease Spider-Man in Civil War to prepare him for his solo outing.
So, what do you think? Does Holland's specific set of skills make him the best candidate?
Your Daily Blend of Entertainment News