Star Wars: The Force Awakens' Final Cut May Drastically Reduce One Character's Role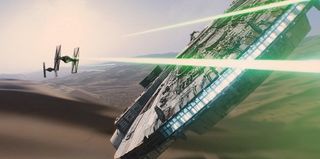 J.J. Abrams and his team recently put the finishing touches on Star Wars: The Force Awakens. The stars have seen it, and of course they love it, and people outside the Lucasfilm family will get to check it out starting in just a couple of weeks. That's enough to make damn near all of us giddy. Editing is always a tricky process, there's simply never enough room to keep everything, and it's starting to look like Lupita Nyong'o's role has been trimmed significantly in the process of shaping the final film.
In all of the trailers and TV spots, there hasn't been much seen from Nyong'o's character, one of the few completely CGI creations in the film named Maz Kanata. We've heard her voice, but aside from one quick glimpse in an ad (which has pretty well be scrubbed from the internet) and appearing on a poster, she's remained relatively hidden. According to a new report from the Sun, she had trouble with the motion capture process, and her role may have been reduced as a result. A source tells the tabloid:
We don't know a ton about Maz Kanata, though she is reportedly a thousand-year-old space pirate who, for the last hundred or so years, has been the proprietor of a out-of-the-way watering hole where all manner of nefarious folks lay low, located on the planet of Takodana. There have even been rumblings that she may have been Han Solo's criminal mentor back in the day, which would explain why he takes Rey and Finn there, as we've seen in the trailers.
We've heard her voice in many of the most recent promotional bits, and she sounds wise, like she knows a thing or two, which with her unique perspective on history makes sense. Over the course of a thousand years, she's seen regimes come and go, watched good battle evil countless times, and generally seen some shit go down.
If this report does turn out to be true, and the 32-year-old Mexican-born, Kenyan-raised Oscar-winner has had her role reduced, it will be interesting to see what impact that has on the future. The article says her role was "massively" cut, and that she had to re-record much of her dialogue after the fact. We've heard that her full story will unfold over the next few Episode films, but if Abrams and company are unsatisfied with Lupita Nyong'o's performance, you have to wonder if they're changing their approach to the character moving forward.
Then again, this is just an unconfirmed rumor, so it's entirely possible that, even if her role was trimmed, it had more to do with the overall narrative and structure than the performance. However it turns out, we'll see Lupita Nyong'o's Maz Kanata, in whatever size her role winds up being, when Star Wars: The Force Awakens opens on December 18.
Your Daily Blend of Entertainment News
Your Daily Blend of Entertainment News
Thank you for signing up to CinemaBlend. You will receive a verification email shortly.
There was a problem. Please refresh the page and try again.