Star Wars Will Keep This Character Completely Under Wraps Until Opening Day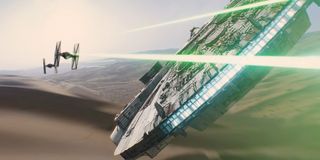 Just in case you didn't know, Star Wars fans go kind of nuts for the franchise. Over the last few months, they've gone above and beyond in their attempts to try and acquire every little ounce of information regarding the upcoming seventh installment to the relatively successful series. But there's one character that they're not going to get any information on until the film's opening day: Lupita Nyong'o's Maz Kanata.
While speaking to Fandango at the D23 Expo 2015 last weekend, the Oscar-winning actress did a very good job keeping details of her character firmly under wraps. Before then emphasising that she doesn't think we'll get to see Maz Kanata in all her glory until we see the finished version of Star Wars: The Force Awakens on the big screen. Lupita Nyong'o explained:
Fancy have a quick peek at what Lupita Nyong'o, who won her Oscar for her intoxicatingly powerful performance as Patsey in Steve McQueen's 12 Years A Slave, looks like covered in little dots? Thought so. Full disclosure: It will not in any way give you a clue about her Star Wars character. Still, enjoy!
But Lupita Nyong'o might not be correct in her assumption that fans will have to wait to see Maz Kanata until Force Awakens actually hits screens. That's because sneaky little spoilers for films can manifest themselves in a variety of different ways nowadays, including through the release of merchandise and toys. While Star Wars' inevitably monstrous marketing campaign is almost certainly going to feature her at some point, too.
All that we really know about Maz Kanata is that Lupita Nyong'o's performance comes courtesy of performance capture technology, while it's also been teased that she is a pirate who possibly owned a castle, and might have operated a base that hosted smugglers and other galaxy gangsters. Basically she sounds like a right rapscallion.
You can check out Fandango's full interview with Lupita Nyong'o, as well as their discussion with the likes of John Boyega, Daisy Ridley, and J.J. Abrams below.
Star Wars: The Force Awakens is due out on December 18, and there are going to be quite a few people interested in it. Heck, even George Lucas will probably go and watch it. Maybe.
Your Daily Blend of Entertainment News
Thank you for signing up to CinemaBlend. You will receive a verification email shortly.
There was a problem. Please refresh the page and try again.