Star Wars: The One Question That Convinced J.J. Abrams To Direct The Force Awakens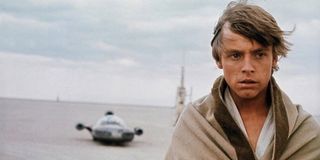 Directing a Star Wars movie has to be a nerve-wracking proposition, especially as a life long fan of the franchise. That's the situation J.J. Abrams found himself in (and probably still finds himself in) when he was offered the job of directing Star Wars: The Force Awakens. The filmmaker struggled with whether or not to take the helm, but in the end it was one question that convinced him to journey to that far, far away galaxy: Who is Luke Skywalker?
Abrams, who was 11-years-old when the first film debuted in 1977, hemmed and hawed about taking the job. It's easy to understand how exciting an opportunity that could be, from a career standpoint and also as a fan, but also how terrifying a prospect it is as well. In big new EW Star Wars spread, Lucasfilm president Kathleen Kennedy recalled:
And that was it, that's the one what hooked the Star Trek director. It's a seemingly simple question, at least on the surface, and one that you might think we already know the answer to after carefully dissecting the character for more than 30 years. But it's also one that could have massive repercussions within the Star Wars universe and change everything we think we know.
According to Kennedy, Abrams' response came almost immediately. He said he got chills and said he was in. Even if he had to come up with the answer to this question on his own, he apparently decided that he needed to know the answer—I guess he just couldn't wait to find out later this year like the rest of us.
When Abrams signed on, there were a number of ideas being bandied about as possibilities, but the creative brain trust, including the likes of Kennedy, Lawrence Kasdan, Simon Kinberg, Michael Arndt, and others, hadn't settled on a concrete direction. There was a ton of spirited, often quite heated, debate about where to take Star Wars in what would become The Force Awakens, and while it was daunting, Abrams called it "thrilling" to be a part of something so big, of determining the future of the franchise.
Kathleen Kennedy wasn't the only person encouraging J.J. Abrams to take the Star Wars plunge. His wife was also a motivating factor in his decision and helped him get over his hesitation. He said:
We'll see how J.J. Abrams and company answer the question, "Who is Luke Skywalker?" and whether or not he made the right choice taking the job, when Star Wars: The Force Awakens opens everywhere December 18.
Your Daily Blend of Entertainment News
Thank you for signing up to CinemaBlend. You will receive a verification email shortly.
There was a problem. Please refresh the page and try again.