Steven Spielberg Gives His Thoughts On Jurassic World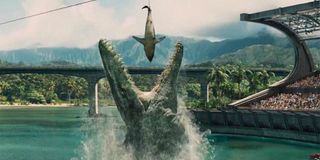 Jurassic World has taken a few mild knocks, from scientists criticizing the accuracy of the dinosaurs, to a writing-credit dispute that was only settled at the start of April, which came shortly after Joss Whedon had accused a clip of the film of being sexist. But don't fret, all you dino-die-hards out there, because Steven Spielberg has swung in to give Jurassic World his seal of approval, and he's even compared the film to his original blockbuster.
Steven Spielberg, obviously, directed 1993's Jurassic Park and its 1997 follow-up The Lost World: Jurassic Park. During a segment for Entertainment Tonight (via CBM) Spielberg waxed lyrical about Colin Trevorrow's fourth installment to the franchise, declaring:
I'd say that Colin Trevorrow would be pretty pleased with that comparison. And while it's true that Steven Spielberg was always likely to make such a remark because he is, of course, the film's executive producer, getting the lauded director's seal of approval is still a nice touch.
Especially since this is only the 39-year-old's second feature film, and the first where he has been flung into the realms of mainstream moviemaking and been handed such a huge budget to play with. Colin Trevorrow's debut behind the camera, 2012's Safety Not Guaranteed, proved that he can bring warmth and intrigue to even the most outlandish of stories, while at the same time ekeing out superb performances from his cast. He also did this on a modest budget too, which he stretched to match his ambitions.
However it was still mostly driven by its dialogue, drama and performances, and he will need to combine these traits with visually arresting and compelling blockbuster cinema for his follow-up. Jurassic World is an entirely different beast altogether, which will also be filled with a wide-range of eclectic beasts that will go rampaging and causing mayhem on Isla Nublar. Trevorrow better have made them do this in an enthralling, awe-inspiring and suspenseful manner that also manages to gross hundreds of millions of dollars across the world. Because if he doesn't tick all of these boxes, then he might have set the studio back, as Universal has huge plans to turn the new film into its very own franchise. No pressure then.
The good news is, Spielberg similarly went from smaller, character films to large-screen blockbusters, and he loves what he sees out of Jurassic World. The sequel will be with us all on June 12.
Your Daily Blend of Entertainment News
Your Daily Blend of Entertainment News
Thank you for signing up to CinemaBlend. You will receive a verification email shortly.
There was a problem. Please refresh the page and try again.