Stop Hating On The Seven Samurai Remake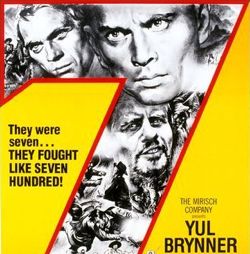 God, you just can't believe the nerve of some people. Akira Kurosawa, the legendary Japanese director, made a movie called Seven Samurai, and then some jerk decided to remake it. With cowboys. How could anyone expect the grace and skill of samurai to carry through to a bunch of rough and tumble Americans?
Well, it did, because that Seven Samurai remake was called The Magnificent Seven, which turned out to be one of the best Westerns of all time (and one of my dad's favorites--- Hi, Dad!). So it may be impossible for remake lightning to strike twice, but there's reason to have a little faith in the Weinsten Company's planned "reimagining" of Seven Samurai-- this time about paramilitary operatives defending a town in Northern Thailand.
Yes, I know that sounds awful, but this is all about having faith! The seven samurai, and the seven cowboys, had faith they could succeed in their mission despite all odds, and it's time for you to have faith too! Screenwriter John Fusco, chatting with Geeks of Doom, is asking you to hold your horses until you see where he's coming from. "I would never be crazy enough to attempt to write a remake of one of the greatest films of all time. It is simply a re-imagining."
Fusco points out that the basic story goes back to an original Greek myth Seven Against Thebes, and jokes "I wish we could just call it a remake of Seven Against Thebes."
So think about how many times they've remade that story about the young man who discovers he has powers and must face a dark enemy. Or the one about the pair of people who can't stand one another when they first meet, but gradually fall in love. There are only so many stories out there, and just because Seven Samurai did it first, doesn't mean it can be done well again.
Your Daily Blend of Entertainment News
Staff Writer at CinemaBlend