The Suicide Squad Characters Just Got Their Own Posters And They're Wicked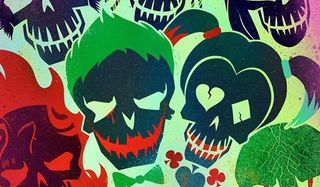 In order to achieve longevity, comic book movies needs to expand with a wide variety of different genres, tones and characters, and David Ayer's Suicide Squad should most definitely provide that. We have not yet seen a big-screen, live-action movie about a team of supervillains, and the footage that's been released suggests it will be unlike anything that we've seen from Marvel or DC properties. So naturally the first posters for the movie are pretty strange too.
A brand new trailer for Suicide Squad will be arriving this week, and to get fans ready the official Facebook page for the film has released a series of artistic character posters showcasing all of the blockbuster's lead characters. So who are these big players? Let's take a little tour!
Deadshot
Suicide Squad boasts a talented, eclectic ensemble, but if there's anyone in it that can be classified as true-blue movie star it's Will Smith – starring as Deadshot. Going by the character's comic book history, we expect that he will be portrayed as highly-trained and incredibly deadly professional assassin whose sole motivation in life is taking care of his daughter. He will be a key player if not team leader when Amanda Waller (Viola Davis) comes around and starts recruiting supervillains for Black Ops work in exchange for reduced sentences.
The Joker
Everyone doubted Heath Ledger before The Dark Knight, claiming nobody could do it better than Jack Nicholson, and that fact just makes us all the more excited to see Jared Leto's interpretation of The Joker. The version of the character we've gotten a peek at in Suicide Squad certainly seems a lot different than previous incarnations, but that can most certainly be a good thing. As for this poster, I can appreciate that his crooked grin looks a whole lot like a bat.
Harley Quinn
Harley Quinn has been a fan-favorite character ever since she was debuted in the brilliant Batman: The Animated Series from the 1990s, and it's Margot Robbie who has the distinct honor of being the first actress to play her in live action. Her relationship with Jared Leto's Joker is easily one of the most anticipated elements of Suicide Squad - and the playing card motif featured in this poster is a nice touch.
Rick Flag
Amanda Waller doesn't travel with her Suicide Squad team, but she does typically have an ally on the ground who is working with the villains to accomplish their potentially deadly cast. In the film, this is the role being played by Joel Kinnaman's Rick Flag. As you can probably tell by the beret on the poster, he is a highly trained soldier – which he would need to be in order to keep his psycho teammates in-line (on beyond the subdermal explosives that have been implanted).
Killer Croc
Killer Croc is a character that many comic book readers thought might never make it into live action – but soon he will be established in the DC Cinematic Universe played by Adewale Akinnuoye-Agbaje. In the source material, the young Waylon Jones was born with an advanced form of atavism that made his skin look reptilian. He had a harsh upbringing as a result, and eventually turned to a life of crime. As part of the titular Suicide Squad, he will most definitely providing the muscle.
Boomerang
Nowadays it seems like Jai Courtney has to be a part of every franchise – from Die Hard to Divergent to Terminator - and this summer he will be joining the DC Cinematic Universe as Boomerang. The character has dropped the 'Captain' from his name in the comics, but it's pretty clear from this poster and other images from the Suicide Squad that he will still be using his signature weapon. The Aussie has a long history with the supervillain group on the page, and now it will be established on the big screen.
Enchantress
As played by Cara Delevingne in Suicide Squad, Enchantress lands in an interesting position as part of the DC Cinematic Universe. The character in the comics has powers that come from the world of magic – but is that something that the DCCU is ready to introduce? This poster doesn't really provide us with any answers, but perhaps the trailer that's being released later this week will. If not, it will just have to be a big screen surprise… and there's nothing wrong with that.
Diablo
Jay Hernandez will be bringing Diablo to life in Suicide Squad - and this poster is oddly the most appropriate, given that the character actually has a tattoo of a skull on his face. As you probably could have guessed from the artwork, he is a big fan of fire… though I am left asking one single question: why is the number seven significant, and why is it in tally marks over his eye?
Katana
I think it's fair to say that this poster wins for "creepiest." I'm not even really sure what it is. I think part of it is that Katana's mask and hair add a certain degree of humanity that the other skulls don't have, and yet the bony mandible is just the same. Played by Karen Fukuhara in Suicide Squad, her portrayal probably won't be as creepy in the actual movie, though we do expect a whole lot of beautiful and intricate swordplay.
Slipknot
Like many of his Suicide Squad teammates, Slipknot (played by Adam Beach) is another highly-trained assassin/mercenary, though his specialty is in ropes and knots. As Beach recently described in an interview, Slipknot can achieve a whole lot when given some rope – including not only climbing and tying things, but also using it as a weapon. He's a well-trained martial artist as well, so expect to see some seriously slick moves.
Hit the last page to see the official poster for the film, featuring all the characters on a single one-sheet!
Your Daily Blend of Entertainment News
Assistant Managing Editor
NJ native who calls LA home and lives in a Dreamatorium. A decade-plus CinemaBlend veteran who is endlessly enthusiastic about the career he's dreamt of since seventh grade.