Super Bowl XLV Movie Trailers: Watch Them All Here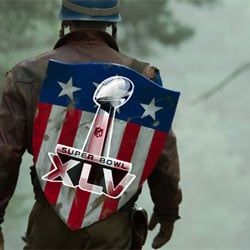 Some of you will tune in to the Super Bowl because you actually like football, a lot of you will tune in because you like commercials, and let's be honest here, a great many of us will tune in because we're looking for literally any excuse to make guacamole. Bring on the cilantro! But plenty of us, even the ones who like guac, also like movies. So, Hollywood will as always overload the Super Bowl's commercial breaks with trailers for some of their biggest upcoming movies.
Maybe you were up getting more tortilla chips when the Captain America trailer played, or maybe you just want to see it again. We've got you covered. Super Bowl XLV is sure to be loaded with amazing new movie content and we've got your comprehensive guide to everything movie fans won't want to miss when the network breaks away from its coverage of men in tight pants and promotion of beer drinking to show something nerdy.
Below is a complete list of all the movies with trailers slated to play during the Super Bowl. Keep checking back on this page throughout the day, we'll be instant updating it with embedded video for each of the trailers listed below as it becomes available.
Battle: Los Angeles
Captain America: The First Avenger
Cowboys & Aliens
Drive Angry 3D
Fast Five
Limitless
The Eagle
Just Go With It
Kung Fu Panda 2
Pirates of the Caribbean: On Stranger Tides
Priest
Rango
Rio
Super 8
Take Me Home Tonight
Transformers: Dark of the Moon
Thor
Your Daily Blend of Entertainment News
Thank you for signing up to CinemaBlend. You will receive a verification email shortly.
There was a problem. Please refresh the page and try again.