Superman's Return Most Expensive Ever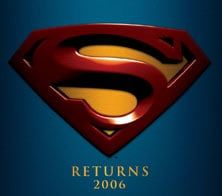 There's been plenty of talk about how badly over-budget Peter Jackson went with King Kong. $200 million is a pretty hefty price-tag for a monkey movie. But PJ isn't the only one spending exorbitantly in a climate of economic downturn for Hollywood. According to TV Guide, Bryn Singer is sending Superman Returns' budget out into orbit. They say the final price tag for the film may end up being in the range of nearly $300 million.
That's right, $300 million for Superman's return to cinema. For that much money, they'd better have invented an anti-gravity device. Forget flying harnesses, Brandon Routh ought to have a jet pack in his pants (which WB would no doubt digitally reduce).
The article in TV Guide quotes a source at the New York Post which describes the film as a "money pit". The resulting product is described as "Superman meets The Matrix", which as a moviegoer sounds pretty cool, but financially could be a massive disaster for Singer and Warner Bros.
Is there any truth to it? Box office website The Numbers puts Superman Returns budget at a massive $250 million, so it's not hard to believe that Singer could be heading towards being $50 million over budget.
Right now King Kong is one of the most expensive movie ever made, checking in at around $207 million for production. Kong will barely break even at the box office. Think about this… Superman Returns might cost nearly $100 million more than King Kong. That's enough money to make three normal summer blockbusters starring Tom Cruise. If they're letting Singer spend like that, then clearly Warners is banking on this being another Spider-Man, a movie that made nearly $783 million worldwide. It'll have to be, if Superman Returns is going to avoid turning into a massive, money wasting flop.
Thanks to CB Forumer Trip for the tip.
For more info and stills from Superman Returns, visit our preview page
Your Daily Blend of Entertainment News
Thank you for signing up to CinemaBlend. You will receive a verification email shortly.
There was a problem. Please refresh the page and try again.