A Superman Villain Just Said Horrible Things About Christopher Reeve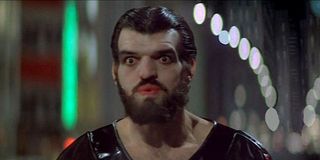 One of DC's most respected characters of all time, Superman, is beloved by nearly one and all. The same can't be said, however, for the actor who played Clark Kent in the 1978 feature film Superman and its subsequent sequels. Yep, that's right. Apparently Christopher Reeve didn't leave a fuzzy impression on Jack O'Halloran, who played the villain Non in the first two films, and as a result the actor recently said some not-so-good things about him.
It's not necessarily shocking to think Non isn't a big fan of Superman, but we never expected the actor behind the villainous character would actually have any serious problems with The Last Son of Krypton. Turns out we were wrong. Here's what O'Halloran had to say about him in a short chat with TMZ:
O'Halloran didn't necessarily seem all that angry at Reeve but rather just forthright in his willingness to say he didn't get along with him back in the day. The former boxer-turned-actor actually mentioned that it got so bad at one point on the set of Superman II that he had a confrontation with Reeve that almost got physical. He explained that the film's director Richard Donner grabbed him from behind only to tell him "please not in the face, Jack, not in the face."
After some research, it became clear O'Halloran's dislike for Reeve has been public knowledge for some time. This isn't the first time he's come out to express it either. In a 2005 interview he explained how he and the Man Of Steel "didn't really get on" and went on to call him an "asshole." Again, as he clarified in his most recent interview, he seemed to believe that Reeve's equestrian accident, that sadly left him a quadriplegic bound to a wheelchair and a portable ventilator, did good things for him. And for that O'Halloran credits Chris for "the courage he gave people."
O'Halloran may not have had the nicest things to say about Reeve, but at least he can say he's consistent.
Your Daily Blend of Entertainment News
Thank you for signing up to CinemaBlend. You will receive a verification email shortly.
There was a problem. Please refresh the page and try again.