TR-8R's Official Origin, And Possible Future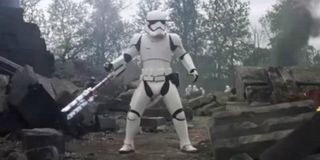 Now that Star Wars: The Force Awakens has hit theaters it can officially be classified as a bona fide worldwide phenomenon. The movie not only continues the story of Luke, Leia, Han, and the rest of the iconic characters from the original trilogy, but it also introduced a whole new roster of young heroes to carry the saga forward into the future. One of these new characters only gets a few fleeting moments of screen time, but made a serious impression with fans: the stormtroper known as TR-8R.
This report comes to us courtesy of Movie Web, and indicates that there's a whole lot more to TR-8R than initially meets the eye. No one could have imagined the popularity that such a minor character would have with audiences; honestly there are probably some of you who don't even know who he is. TR-8R is the riot control stormtrooper Finn encounters outside of Maz Katana's when the First Order attacks. He calls Finn a traitor and the two engage in a vicious lightsaber/riot baton battle only for a few moments, but the sequence had a poignant effect on fans.
It's revealed in Before the Awakening – a tie in book for Star Wars: The Force Awakens – that TR-8R and Finn actually served together on a special four-man squad prior to Finn's defection. Another member of their squad named Slip was killed on Jakku, which ultimately served as the reason for Finn abandoning his post (it's Slip's blood that smears across Finn's helmet early on in the movie).
This explains why TR-8R is able to identify Finn so easily when the attack begins, as well as why the fight between the two men seems like such an intimate, personal battle. If Finn showed that stormtroopers can express feelings like compassion and remorse, then TR-8R showcases the way they feel anger, hate, and bitter resentment. Honestly, knowing this backstory makes their battle even cooler, as it has all of the brotherly anger of the battle between Anakin Skywalker and Obi-Wan Kenobi from Revenge of the Sith, but with none of the whiny angst.
TR-8R's popularity with fans may serve him well in the future. Although it was widely believed that Captain Phasma would go on to become the fan favorite villainous character – a la Boba Fett – this seemingly average stormtrooper has more than filled in that role with the internet, becoming the subject of numerous memes and various other pieces of viral content. Because of this it's widely assumed that the character may have survived the blaster shot inflicted by Han Solo, and may indeed rear his head for future installments to once again wreak havoc on Finn's life.
Originally from Connecticut, Conner grew up in San Diego and graduated from Chapman University in 2014. He now lives in Los Angeles working in and around the entertainment industry and can mostly be found binging horror movies and chugging coffee.
Your Daily Blend of Entertainment News
Thank you for signing up to CinemaBlend. You will receive a verification email shortly.
There was a problem. Please refresh the page and try again.