Take A Look Behind The Scenes Of Transformers 2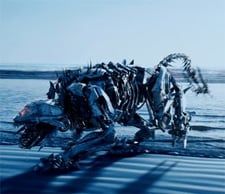 Transformers 2: Rise of the Fallen is shaping up to be one of this summer's biggest movies. How do you get involved in a picture like this? According to franchise newcomer Ramon Rodriguez, you spend your audition jumping over furniture, pretending to be running from invisible robots; a skill that prepared the actor for actually shooting a similar scene when he got the role in this summer's sequel.
That tidbit comes courtesy of MTV.com, who has a series of four short interview clips with Rodriguez and the other franchise newcomer Isabel Lucas that they've dubbed, "Making of Transformers 2." The clips may be quick, but they're an interesting look at the mindset of the latest actors to join the saga.
I'm hoping MTV has some interviews with some of the Transformers vets up their sleeve as well. While it's cool to hear from the new kids on the block, I'm curious what filming the new movie was like for the cast who endured the first picture. For now, check out the four video clips, embedded below.
Your Daily Blend of Entertainment News