Taylor Swift Joins The Cast Of The Giver, Starring Jeff Bridges And Meryl Streep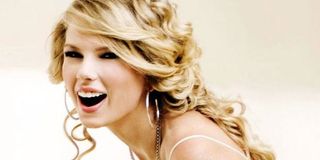 Golden girl and Grammy-winning singer-songwriter Taylor Swift has expanded her career into acting the last few years, and it seems she's rising as fast in the movie world as she did in music. It was just three years ago she made her film debut with a small role in the star-stuffed ensemble rom-com Valentine's Day, and already she's set to star in a movie opposite two of American cinema's living legends. Variety reports Swift has officially signed on to The Giver, a Weinstein Company production fronted by Meryl Steep and Jeff Bridges. Also on board are Katie Holmes, Alexander Skarsgård, We Are What We Are's Odeya Rush, Shameless's Cameron Monaghan, and Brenton Thwaites of the upcoming Angelina Jolie vehicle Maleficent.
Based on the 1993 young adult novel by Lois Lowry, The Giver centers on a 12-year-old boy named Jonas, who lives happily in a society that seems to be ideal, lacking sickness, conflict and racism. However, there is a trade-off to keeping this utopia so shiny and agreeable, and Jonas is about to learn all its troubling truths after being chosen to inherit the position of "Receiver of Memory." This unlucky person is the one member of society who doesn't convert to "Sameness," a method that keeps everyone blithe. Instead, the Receiver of Memory must know pain and pleasure, and store all the memories of those who have come before. As you can imagine, it's a huge responsibility, and so Jonas is sent to train with the Receiver he'll replace, a man called The Giver, who clues him into the strange joys of a life with a full emotional range.
Australian actor Thwaites will tackle the role of Jonas, while Bridges is set to play the titular Giver. Streep will portray Chief Elder, who keeps their safe society humming along by determining what roles each upcoming crop of kids will play in the unfolding future. Holmes will play Jonas's mother, while Skarsgard will be his father. For her part Swift is set for the part of Rosemary, the last pupil The Giver had before Jonas. It's looking like this will be another small role for Swift, but it should nonetheless be a welcomed chance to grow as an actress before her lead role in Girls Like Us comes calling.
The adapted screenplay for this promising science-fiction drama was penned by Michael Mitnick, an up and coming screenwriter who made the 2011 Black List with his script for The Current War, a docudrama that details the tech race between Thomas Edison and George Westinghouse. Manning the director's chair for The Giver will be Phillip Noyce, whose last feature production was the 2010 Angelina Jolie-fronted thriller Salt. Production on The Giver will kick off on October 7th in Cape Town, South Africa, with some filming to be done in London so that Streep can fulfill her commitments to the big screen musical Into The Woods. The Weinstein Company has already announced a US release date of August 15th, 2014.
Staff writer at CinemaBlend.