Teaser Poster For Sex And The City 2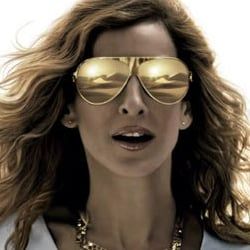 There's pretty much one thing, and one thing only, that anyone knows about the plot of Sex and the City 2-- someone is going to the desert. We reported it way back in August, and since then it's become accepted as fact that Carrie, or someone, will wind up in Dubai (Morocco standing in, of course).
Now the first poster for the film confirms the setting and not much else. In the close-up above you can see that what's reflected in Carrie's bright-gold shades is a sandy desert. The outfit she's wearing is identical to the one in the first official image from the film. So even though the poster is new, they actually aren't telling us anything at all.
Sex and the City 2 comes out in May next year, and, well, if you're going to see it you already know everything you need to hear. Go ahead and check out the poster below.
Your Daily Blend of Entertainment News
Staff Writer at CinemaBlend