The Teenage Mutant Ninja Turtles 2 Trailer Is Quick, Catchy, And Has A New Title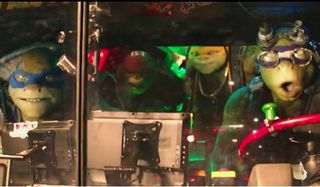 Last year's Teenage Mutant Ninja Turtles was a success that no one could have predicted. At the very least, no one could have predicted that it'd be big enough to almost immediately spawn a sequel, yet that's what we have our first look at in the trailer below. Here comes your best look at Teenage Mutant Ninja Tutrles: Out Of The Shadows.
While the trailer has been teased throughout the week, for a final release at some point tomorrow, an industrious source leaked out the full monty a day early. Seeing as news catches quick, and JoBlo caught an HD version of the embed, we now have for you the total teaser experience. Originally titled, Teenage Mutant Ninja Turtles 2: Half Shell, the 2016 sequel has gotten a new name, and a better sense of humor about it. While you may or may not have been a fan of 2014's origin story, you can at least admit that if Teenage Mutant Ninja Turtles: Out Of The Shadows isn't your cup of tea, it's at the very least campy enough to get a good laugh out of it.
For starters, we finally get to see Bebop and Rocksteady brought to life on the silver screen, played by Gary Anthony Williams and Steven "Sheamus" Farrelly, respectively. They look just as crazy as you'd expect, considering how the Turtles themselves have been designed, but at least they aren't crazier than they have to be. Also, Williams looks like he'll steal the show with his trademark delivery and tough guy wit. Speaking of tough guys, we also get our first look at Arrow's Stephen Amell as the legendary bad-ass Casey Jones. While his introduction is limited to some light flirting, interrogation via jealous turtle, and a little bit of high sticking, it's enough to get us jazzed to see one of our old time favorites back on the big screen.
Even more interesting is the first sighting of Laura Linney and Tyler Perry's characters in the film. While we knew that Perry was going to play mad scientist / Shredder associate, Baxter Stockman, we were kept in the dark about who Linney would be playing – until now. Apparently, she's a big wig with the New York Police Department, possibly even the police commissioner, who will obviously butt heads with Leonardo, Donatello, Raphael, and Michelangelo, before eventually teaming up with them. Think of her as the Nova Prime of the Teenage Mutant Ninja Turtles universe.
Though if we were to single out one aspect of this trailer that sells Teenage Mutant Ninja Turtles: Out Of The Shadows the best, it'd be the musical selection of Run DMC's classic tune "It's Tricky." While the song is remixed for a more modern audience, it still kicks off the tempo for a pretty quick moving trailer that flashes everything you'd expect from a Teenage Mutant Ninja Turtles movie. Explosions, a tricked out Turtle Van, Megan Fox tying up her shirt, and wise cracks galore – all are on display in our first glance of the next round of Turtle Power.
Teenage Mutant Ninja Turtles: Out Of The Shadows has opened its doors to us, and yet there's so much more that we have to learn. With a vague, menacing threat that's opening portals into our world, only to pervade whole sections of the trailer, there's still plenty of surprises waiting around the corner before the film invades multiplexes on June 3, 2016.
Senior Movies Contributor
CinemaBlend's James Bond (expert). Also versed in Large Scale Aggressors, time travel, and Guillermo del Toro. He fights for The User.
Your Daily Blend of Entertainment News
Thank you for signing up to CinemaBlend. You will receive a verification email shortly.
There was a problem. Please refresh the page and try again.