Terrence Howard Joins Hugh Jackman In Prisoners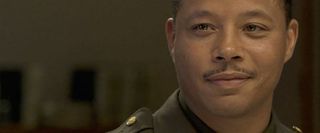 Canadian filmmaker Denis Villeneuve first drew the eye of the world with his staggering 2010 drama Incendies. The film was nominated for an Oscar, BAFTA and César for Best Foreign Film, and won a slew of Genie Awards, which recognize the best of Canadian cinema. With his follow-up, An Enemy, the rising auteur pulled together an international cast that includes American star Jake Gyllenhaal, French ingénue Melanie Laurent, and Italian screen legend Isabella Rossellini. But with that film now in the can, Villeneuve's been culling together an even more intriguing ensemble for his next venture, Prisoners.
The Pennsylvania-set thriller centers on Keller Dover, a father whose life is thrown into spin when his young daughter and her best friend go missing. Not content to leave the police to find them, Dover tirelessly pursues his own search, which leads to conflict with the hotshot detective assigned to the case. Deadline reports Terrence Howard has just signed on to the feature, penned by Contraband scribe Aaron Guzikowski. The Red Tails star joins a cast that boasts such heavy-hitters as Gyllenhaal, Hugh Jackman, Maria Bello, Viola Davis, Melissa Leo and Paul Dano.
From previous reports, we know Jackman will front the film as Dover. Gyllenhaal will portray the aforementioned arrogant cop, and Maria Bello will play Mrs. Dover. It's unknown what roles the rest of this promising ensemble will play. However, with this blend of talent, Prisoners is already a project worth watching out for. And as principal photography slated to begin in February, we shouldn't have to wait long. Prisoners is poised to hit theaters by fall of 2013.
Staff writer at CinemaBlend.
Your Daily Blend of Entertainment News
Thank you for signing up to CinemaBlend. You will receive a verification email shortly.
There was a problem. Please refresh the page and try again.