What Rooney Mara Thought Of Kate Mara's Fantastic Four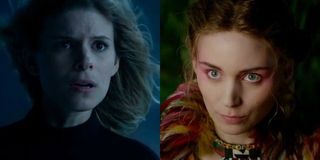 It's common knowledge that not only has Kate Mara not actually seen Fantastic Four yet, but neither has most of the cast. But what about Kate's little sister, Rooney Mara? Did she shun the film like the rest of the world? Or did she ignore popular opinion and go and see it anyway? Well, it turns out it's the latter, as Rooney has actually seen Fantastic Four.
With Kate Mara constantly reminding us that she hasn't seen Fantastic Four yet, I decided to ask Rooney Mara if she'd watched the much maligned blockbuster during the press junket for her upcoming role in Pan. Not only did Mara see the film, but she only had good things to say about her sister's work in it too:
Sure, it's hardly a ringing endorsement, but it's still one of the best reviews that Fantastic Four has received, with critics savaging the blockbuster immediately upon its release. Heck, even its director Josh Trank decided to get in on trashing the film. On the eve of its release he took to Twitter to write the following post, before almost immediately deleting it.
Because of all this negativity, Fantastic Four ultimately went on to gross the rather measly sum of just $165.5 million at the box office, which has immediately put any plans for a sequel on hold. The film had looked promising in some of the trailers released before the August release date, one of which you can enjoy below.
Despite the fact that Fantastic Four was a bona fide flop of the highest order, you'd have still thought that Kate Mara would've wanted to see how all of her hard work actually manifested itself onscreen? When I probed Rooney Mara as to why her older sister might not have watched Fantastic Four yet, she was rather pragmatic with her response, answering:
We're still not really sure what Fox's plans for any Fantastic Four sequels are at the moment. In the immediate aftermath of the poor reviews and its poor box office performance, it was assumed that 20th Century Fox wouldn't move forward with the sequel.
But the fact is that if Fox doesn't produce a sequel Fantastic Four's rights revert back to Marvel complicate this matter, as Fox won't want their rivals to get their hands on a franchise that could easily flourish within their cinematic universe. One things for certain though, if Fantastic Four does get a follow-up, Josh Trank won't be involved. If that's the case, then neither Kate or Rooney Mara may have to worry about discussing another Fantastic Four film at the box office.
Meanwhile, Pan is due out this coming Friday. If Kate Mara is as good a sister as Rooney, she'll be the first in line to see it.
Your Daily Blend of Entertainment News
Thank you for signing up to CinemaBlend. You will receive a verification email shortly.
There was a problem. Please refresh the page and try again.