Third DeLorean Biopic Gets Started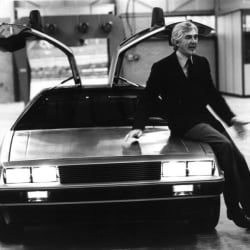 We've gotten used to seeing two competing biopics about a particular historical figure try to get made at the same time-- Gus Van Sant's Milk edged out Bryan Singer's The Mayor of Castro Street, and two biopics about Steve McQueen, based on two different biographies, are currently in the works.
But seriously: three biopics about John DeLorean? Three? The latest film to join the scrum comes from Time Inc. Studios and XYZ Films, working from articles in Fortune and Time magazine, as well as a book and an unpublished memoir, about the inventor of the DeLorean car. THR writes that they also have cooperation from DeLorean's son Zachary DeLorean, who is the executor of the estate.
As for the other two projects, one is being handled by producers David Permut and Steven Leen Jones, while Brett Ratner is setting up another with some other big names-- James Toback as a screenwriter, and Robert Evans as producer. My money would go to that one just for the name recognition alone, but there are always a million factors that affect projects this big. The extra competition from this new project may be enough to get the other two in gear and get the thing made.
Staff Writer at CinemaBlend
Your Daily Blend of Entertainment News
Thank you for signing up to CinemaBlend. You will receive a verification email shortly.
There was a problem. Please refresh the page and try again.