Three Actors In Final Casting Call For Conan The Barbarian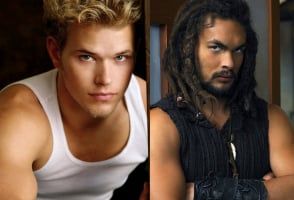 Production on Marcus Nispel's remake of Conan the Barbarian is scheduled to get started on March 15, but there's still no one confirmed to inherit the loincloth from Arnold Schwarzenegger. According to Deadline Hollywood, though, they're down to three finalists-- Twilight's Kellan Lutz, Stargate: Atlantis star Jason Momoa, and an unnamed third, "better established actor."
Of course, the main requirement of the role is muscles, and both Lutz and Momoa seem to have those in spades. While neither is a major household name, neither was Arnold Schwarzenegger at that point in his career. While this take on the story will presumably boast a much bigger budget than the original B-movie Conan, I wouldn't guess they're aiming to pay a bunch of money to the lead actor-- the star is the franchise, not the guy with the sword. Whoever the better established actor is waiting in the wings, my guess is we'll see him passed over for one of the cheaper unknowns. Lutz and Momoa, one of you had better start bulking up.
Staff Writer at CinemaBlend
Your Daily Blend of Entertainment News
Thank you for signing up to CinemaBlend. You will receive a verification email shortly.
There was a problem. Please refresh the page and try again.