Tim Griffin Talks The Return Of The Collector In The Collection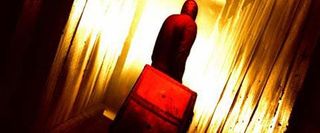 The man behind some of the sickest and most twisted death traps on the big screen is at it again. In the midst of writing the final four Saw films, Marcus Dunstan brought us another terrifying tale brimming with sinister snares, 2009's The Collector. The Collector may not have reached Jigsaw status, but folks out there, maybe not the critics, did find potential in this sadistic killer and now, he's back for more in the sequel titled The Collection.
The cast is loaded with talent including the original Arkin, Josh Stewart, Christopher McDonald, Lee Tergesen, Andre Royo and more. Also on the roster is Tim Griffin. While in New York working on the pilot for the NBC show Prime Suspect, Griffin used his lunch break to tell us all about the show and a slew of upcoming projects including The Collection.
Oddly enough, it wasn't the gruesome nature of the kills that terrified Griffin, rather the awful haircut he sported for the film. Regardless, Griffin was honored to be part of the piece saying, "Marcus is a genuine genius." Griffin was shocked how The Collector turned out when Dunstan was working with such a small budget. This time around, their wallets were far weightier and Dunstan put that extra cash to good use.
Griffin further explained Dunstan wanted Griffin's character, Dre, to be "country mean." Where does Dre fit into the film? Griffin revealed, "We've got this sort of badass group of mercenaries." He likened the situation in The Collection as compared to The Collector to Alien vs. Aliens. "The first one, Sigourney Weaver, is out there battling by herself. The second one, is like, well, what if you brought in all the firepower?" Griffin even labeled Dre "the Bill Paxton character."
Where does Stewart's Arkin fit into the new story? After having suffered through The Collector's house of horrors when he merely hoped to rob a house, Griffin's badass mercenaries "force [Arkin] to go back." He added, "we go in on sort of a mercenary rescue mission, but [Dre is] in it for the money."
Griffin guarantees The Collection is "bigger, bigger, bigger." What does this mean in Dunstan terms? Well, think Saw; probably more terrifying traps, more gore and a higher body count. Who can argue with that?
Hear all about what to expect from The Collection from Griffin himself in the video interview below.
Your Daily Blend of Entertainment News
Staff Writer for CinemaBlend.
Your Daily Blend of Entertainment News
Thank you for signing up to CinemaBlend. You will receive a verification email shortly.
There was a problem. Please refresh the page and try again.