Tom Hardy Returning For More DC Comics Movies? Here's What He Says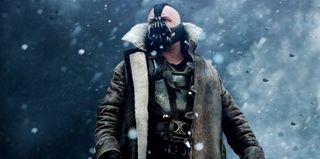 Tom Hardy is a damn treasure. Not only is he a fantastic actor who makes great movies like Mad Max: Fury Road, Warrior, and Bronson (we're excited to see him play real life gangster twins Ronnie and Reggie Kray in Legend--he took his dog to the premiere), he seems like the kind of dude you'd want to hang out and have a beer with. And he thinks he can take out both Superman and Batman at the same time, at least if DC gives him the chance.
Talking to MTV International, the interviewer asked Hardy if, now that DC is getting hot and heavy with their own cinematic universe to compete with Marvels, if he'd like return for more movies. His answer was rather enthusiastic, and he said:
Bane coming back might be kind of a trick to pull off, as Selina Kyle (Anne Hathaway) blasted him full in the chest with the canons on the Batcycle, but it wouldn't be the first time a character in a comic book movie didn't stay dead forever. Then again, it also sounds like Tom Hardy himself may be the one drowning two of the most popular superheroes in comic book history in this particular scenario, not necessarily the character Bane. Check out his whole response below.
Don't get too excited, however, as this is just idle chitchat during an interview, and is in no way indicative of anything that is going to happen, unless something very strange takes place. DC appears to have a roadmap, and it doesn't look like Bane or Hardy is a part of that. So all of you out there who hate Bane's voice, don't worry, he's not coming back anytime soon—I would totally get behind it, though, I love his voice, he sounds like an adorable old man and I want him to read me bedtime stories.
For the time being, the Caped Crusader has his hands full, as he's scheduled to tangle with the Man of Steel next summer in Batman v Superman: Dawn of Justice. Not to mention, Lex Luthor also shows up in that movie to cause a ruckus, and there's that mysterious new threat looming, which may be Doomsday, or something else entirely. Perhaps Bane could be resurrected for one of those solo Batman movies we've heard tell of, would you pay money to see Tom Hardy punch Ben Affleck? He was also once attached to Suicide Squad, so maybe DC could lure him back for another part. Who would you like to see Hardy play?
Your Daily Blend of Entertainment News
Thank you for signing up to CinemaBlend. You will receive a verification email shortly.
There was a problem. Please refresh the page and try again.