Will Tom Hiddleston Ever Give Up The Loki Role? Here's What He Says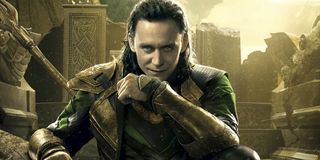 It's damn near shocking that Tom Hiddleston's Loki has become such a staple of the Marvel Cinematic Universe, thanks to the massive outpouring of love from the fans. As a reporter recently mentioned to the actor on the red carpet of the BAFTA awards this past weekend, his mischievous acts have the potential to go on and on in this shared universe, but it seems that Hiddleston sees an end in sight.
In reply to the reporter's suggestion that Tom Hiddleston could play Loki indefinitely, the actor stated:
Much like the other Marvel stars, Hiddleston has a lot on his plate. Ever since he became Loki, studios have been wanting to hitch their films onto his star, and some have already. We'll be seeing Hiddleston next in Guillermo del Toro's gothic horror story Crimson Peak, opposite Mia Wasikowska and Charlie Hunnam. Plus, he's set to headline the new King Kong prequel, Skull Island, alongside Birdman star Michael Keaton. At the same time, though, we know we'll be seeing Loki again very soon.
We know that Avengers: Age of Ultron will feature an Asgard scene with Heimdall (Idris Elba), Loki and Thor (Chris Hemsworth). Details surrounding this upcoming moment are still a mystery, though it's plausible the God of Thunder heads up there to seek some guidance on how to destroy Ultron. Elsewhere, there's always Thor: Ragnarok. And if that's anything like the comics, Loki will have a major part in it. Ragnarok points to the "end of the world" in Norse mythology, in which Loki awakens Fenrir, the giant wolf, to devour the sun. The comic version is pretty similar, though it involves an epic battle involving various races and creatures across the nine realms. As Hiddleston mentioned on the BAFTA red carpet, when we last saw Loki, he was sitting on the throne of Asgard. Did he kill his adopted father Odin (Anthony Hopkins)? Did he imprison him somewhere in the castle? There are still many questions that need to be solved, so hopefully the trickster god doesn't relinquish his throne too soon.
Watch the full video interview with Hiddleston below.
However, much like the exhaustion felt by many of the other Marvel stars, Tom Hiddleston is no doubt ready to leave this world behind. Yes, the MCU seems like a playground for geek kind, and we all can't get enough of these films. But we also don't know the pains of signing our lives away to a five-to-six-movie contract. Chris Evans, for one, has said numerous times that he's awaiting the moment when he can hang up the Captain America shield, and there's even been rumors about a whole new Avengers line-up coming for the future films. If that's true, that also means we need another villain as popular and free-moving as Loki. Good luck with that, Marvel.
Your Daily Blend of Entertainment News